With Open Carry still making headlines, it's time to take a look at how Open Carry can be successfully used as a tool to further gun rights. There are definitely right ways and wrong ways to Open Carry, and unfortunately too many people do it the wrong way. Here is the Gun Nuts Guide to Successful Open Carry.
1. Don't be a dick
Honestly, if you can accomplish step 1, you're way ahead of the power curve. We lost Starbucks specifically because people were being dicks. If you have to ask yourself "is action X being a dick?" then the answer is probably yes and you should not do it. Don't provoke confrontations, don't get up in people's faces, and don't give the cops a reason to think you're a clown.
2. Have a goal beyond "just open carrying"
Open Carry worked in Virginia because the VCDL used it as a tool to illustrate the silliness of Virginia's restaurant carry laws. Open carry in this case was a means to an end, not an end in itself. Open carry will probably work in Florida because Florida Carry is using OC as a tool to illustrate the silliness of Florida's carry law. They have a goal beyond "just open carrying." OC didn't work in California because there was no legitimate political goal that could be achieved by the use of open carry.
3. Don't go looking for trouble
This goes hand in hand with number 1, but is a category all by itself because of the number of people who saddle up and OC guns specifically so they can record themselves getting in confrontations with the police. Then they post on their OC message board about how they got hassled by The Man. Seriously, don't be that guy. Just don't.
4. Dress like a grown-up
If you are going to OC, people are going to see your gun and by default you will be considered representative of the gun culture.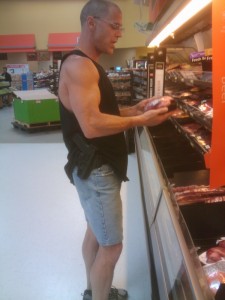 The photo, sourced from USA Carry via a simple google search is a perfect example of everything that's wrong with OC appearance. I don't know this guy from Adam, and I'm sure here's a really nice dude in real life, but if you're going to OC, don't wear a ratty tank-top.
5. Get some gun retention training
Cops open carry every day. Cops are also trained to defend themselves from gun grabs. Be prudent. Get training.
6. Use a retention holster
Cops also use retention holsters. The Safariland ALS is $40 and is one of the best retention holsters on the planet. Its retention mechanism is a huge step up over a thumb-break of the push button on a SERPA, but even the SERPA is preferable to carrying in a non-retention holster openly.
7. Don't proselytize people.
The goal of smart OC shouldn't be the act of OC'ing itself. It should be part of a greater goal, as mentioned above. With that in mind, don't be the 2nd Amendment equivalent of an annoying street preacher who goes around bible-thumbing people. That guy is annoying, and no one likes him. The best memory that Joe and Jane average can have of you when you're open carrying is "what a nice and reasonable person"; people don't get that memory when you're trying to "educate them about the 2nd Amendment."
8. Just go about your business
I have to give some props here to the guy pictured in the photo. Other than his attire, he's doing an excellent job at OC, because according to the thread he's simply carrying his gun as a part of his normal activities. He's not carrying a long gun into Starbucks to make a point, he's not parading around in public parks yelling "LOOK AT MY GLOCK" to the local LEOs, he's just grocery shopping. That's awesome. But seriously, buy a shirt with sleeves and a collar.
9. Be polite to the police
In general, the average rank and file beat cop is neutral or even friendly to the gun issue. So when the police get called on you, don't be that guy who refuses to show ID and only ask "am I being detained?" That guy is a jerk. Those cops have a lot better things to do than deal with some obstinate OC clown, so when the police come, be nice. 99% of the time that will result in a positive encounter. The 1% of the time where it doesn't, you were the nice guy and didn't cause problems, so you'll be okay in the long run.
And finally we come to 10. Don't be a dick
This is so important it needs to be said twice. Many of the points here are directly related to not being a dick. Remember, when you OC you're not just representing yourself and other OC advocates, but to the general public you're representing gun owners as a whole. Be a good representative.