Katie Harris is an up-and-coming lady 3-Gun shooter who has won her fair share of High Lady titles at serious 3-Gun matches. This weekend, Katie pulled off the truly impressive feat of winning the Tactical Heavy Division outright at the Fallen Brethren 3-Gun match. Katie beat a field of over 20 shooters, all of but one of the male to pull of the overall win at the FB3G match.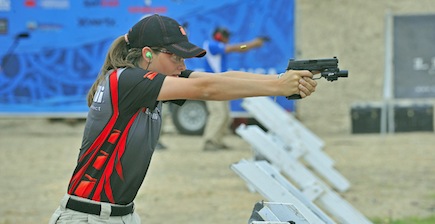 I'm not one of those people that disparages the High Lady category award; I think that it's important to recognize special categories like Junior, Lady, and Senior. However, it's even more important to recognize things like this, where Katie didn't just win High Lady, she won her division. Overall. Feats like this, or Randi Rogers finishing 3rd overall in Production at Bianchi Cup should be lauded because they're legitimately impressive performances regardless of a person's gender.
Again, I can't over-stress the importance of recognizing categories, because category recognition helps grow our sport and provides encouragement for women, junior, etc – but it's even more important to recognize great performances, period. Yes, it's notable that a young woman won Heavy Metal at a major 3-Gun match, because to my knowledge that's never happened before.
Congrats to Katie on her great performance!