After posting Rifles vs. shotguns for home defense, I was amazed to see the number of people both here and on Facebook that don't understand even a little bit about how shotguns work. Let's go over some of the common mistakes, starting of course with shotgun patterns. Once again, my good friend and mentor Richard Mann did the legwork on this one, patterning several types of buckshot for Shooting Illustrated.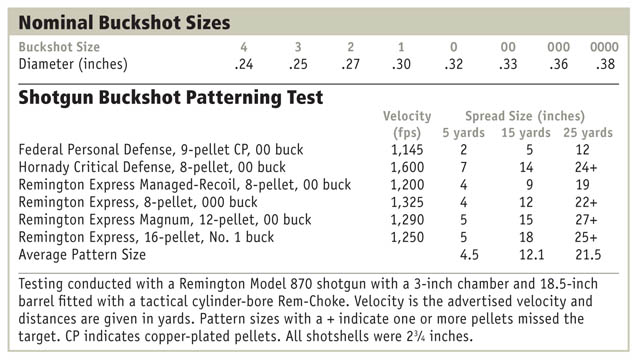 What does that teach us about shotgun patterns? That the average spread at 5 yards, an acceptable inside the house distance is less than five inches. That's smaller than the distance from the tip of your middle finger to your wrist. Think about that for a minute – place your open palm over your chest and look down. That's the average spread of buckshot at 5 yards. There is no "cone of death" coming out of a shotgun, because as the pattern expands, the projectiles become less effective. 00 buck is an effective fight stopper because you're hitting someone with 8 or 9 pellets all at once. Hitting them with one or two pellets isn't going to do the trick.
Up next is over-penetration. We had a lot of people talking about how a rifle will shoot clean through your house, your neighbors, and the house next door while a shotgun won't. That's simply not true. A 5.56 projectile will tumble after passing through a single interior wall. The tumbling 5.56 projectile then loses velocity and deviates wildly from its flight path. Shotgun slugs and buckshot on the other hand just keep on trucking in the same flight path unless they hit a stud. Shotguns and pistols have a much greater risk of over-penetration than rifles when fired indoors.
The one thing I will concede to the shotgun fans (I'm one) is that you have a much higher chance of ending the fight with a single shot from a shotgun than you do from a rifle. However, I'm not willing to bet my life on one-shot stops, and I can shoot my 3-5 aimed shots from a rifle in the same amount of time it takes to fire 2 aimed shots from a pump gun.
Rifles win, hands down.