I've gotten some flak recently (and in the past) for my criticism of the obnoxious behavior I see from Open Carry "Activists." Usually it's people saying that criticizing OC presents a divided front to the anti-gun activists. The problem with that assertion is quite eloquently summed up by Tam in a comment:
[F]rom the outside? That douchebag doesn't just represent Robb [Allen]; he represents you and me and Todd, too.

Non gun-owners don't grok any OC/CC schisms; they just see "gun owners acting like toolbags".
This is the sad truth.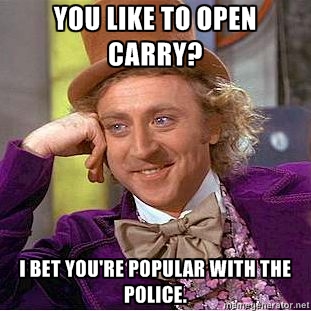 See, to the middle class, to non-gun owners, and people neutral on the issue there are no schisms in our community. They see us as the media represents us, a giant blob of gun owners marching in lock-step to the tune of the NRA's piper. While we know that couldn't be farther from the truth, that is in fact how the very people we need to keep being neutral to our cause see us.
This is why it's important for us to call out bad behavior when we see it. That dude with the rifle in Starbucks? That becomes you, that becomes me in the minds of non-aligned/neutral voters. Yes, there are 80 million gun owners in America, but how many of those people actively vote on the gun issue as a core issue? I'll tell that it's not enough should we ever get in a situation where the neutral votes turn against us.
We have as a movement made great strides in just the time that I've been around. But getting those advances in protecting rights haven't come by shoving rifles into people's faces and shouting "LOOK AT MY GLOCK" like a needy child. They've come through the hard work of dedicated volunteers and activists, from people calling, faxing, and writing their representatives. Alan Gura didn't win Heller by slamming an AR15 onto the desk of the Supreme Court and yelling "SHALL NOT BE INFRINGED OC4EVA", and we as a community won't continue to move the ball forward if we think that being the Westboro Baptist Church of Gun Rights is a good, or laudable idea.
No one is saying OC should be banned. In fact, Open and Concealed Carry should be legal in every single state in the union. But that path to that legalization doesn't visit Jerkville, and we certainly won't reach that laudable goal of 50-state carry by acting like tools.