WEST HARTFORD, Conn. – Colt is pleased to announce the appointment of Joyce Rubino to the newly created position of Vice President, Marketing. Rubino was previously Controller and Vice President of Operations for Colt's Manufacturing Company.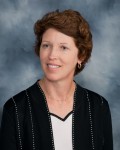 "We are thrilled to have Joyce leading Colt's marketing operations," said Dennis Veilleux, President and CEO of Colt. "Joyce has been an integral part of our team for a number of years, and has a proven track record of outstanding leadership. She is keenly aware of the issues and opportunities within our industry, and is well positioned to lead Colt's marketing efforts."
Rubino has been an instrumental leader in the growth and success of Colt's commercial operations. Throughout her time with Colt, Rubino has navigated a number of challenging situations, consistently delivering effective and well-thought solutions. It is this knowledge and experience that will serve her well as she takes on the new role of Vice President, Marketing.
Photo Caption: Joyce Rubino is appointed as Colt's Vice President of Marketing.
About Colt
Colt is one of the world's leading designers, developers and manufacturers of firearms. The company has supplied civilian, military and law enforcement customers in the United States and throughout the world for more than 175 years. Our subsidiary, Colt Canada Corporation, is the Canadian government's Center of Excellence for small arms and is the Canadian military's sole supplier of the C7 rifle and C8 carbine. Colt operates its manufacturing facilities in West Hartford, Connecticut and Kitchener, Ontario. For more information on Colt and its subsidiaries, please visit www.colt.com.