At the 2013 IDPA Nationals, only two divisions have what appear to be on paper as tight races for the championships. Custom Defensive Pistol has Glenn Shelby as the runaway favorite to repeat as champion, Jerry Miculek will win his 1,532nd Enhanced Service Revolver title, and everyone expects Bob Vogel to run away with Stock Service Pistol like a fat kid with a purloined cookie. The biggest challenger to Glenn in CDP was Mike Seeklander, who was unfortunately DQ'd to an equipment issue. While there's still the possibility of an upset in CDP, the two tightest divisions at Nationals this year are going to be Enhanced Service Pistol and Stock Service Revolver.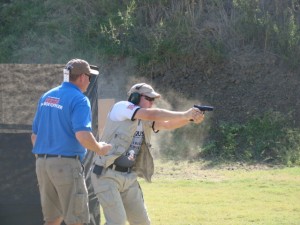 In ESP, at the start of the match there were two Distinguished Masters shooting, Matt Mink and Brandon Wright. They're being chased by 20+ Master class shooters in ESP, including USPSA Grandmaster Nils Jonasson. Fans of the sport will remember Nils coming out of nowhere in 2010 to win USPSA Limited Nationals over a tough field; he followed that up in 2011 with 3rd place finishes at both Single Stack Nationals and Limited Nationals. Then in 2012 he won Single Stack Nationals, taking home his second USPSA National title. If there's one shooter here to keep an eye on the ESP race, it's Nils. What we'll be watching to see is if he can adapt from the run and gun style of USPSA shooting to the more scenario based approach to IDPA.
Initially, Mike Seeklander, also a USPSA GM was expected to compete in ESP, but according to the Day 1 (or 3, depending on how you count) scores, Mike shot CDP. Mike was disqualified after his fifth stage for an equipment violation, while I've not spoken with him directly, word on the street is that he forgot to put the Series 80 parts back in his 1911 before the match. IDPA views the Series 80 parts on a 1911 as a safety which cannot be disabled, so a gun that doesn't use them is automatically illegal.
Removing Mike from the ESP field (and the CDP field) brings the race in ESP to what appears to be a 3-way battle between Nils, Matt Mink, and Brandon Wright. Last year's surprise ESP challenger Ravin Perry isn't at this year's match. There are quite a few unknowns on the match list this year as well; Eric Fuson started last year's match strong and didn't finish well; could he step his game up this year? We'll find out the answers to all these questions by Saturday evening, as we go through two more full days of shooting at the IDPA Nationals.