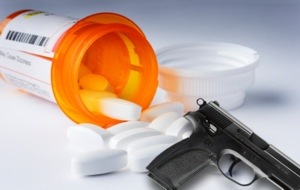 Many supporters of the Second Amendment will preach that the document offers Americans complete firearms rights, that can not be infringed. This may sound good in theory, but then I hear the story like the one I heard last weekend, from a woman at the beginning of a heated divorce.
She is an accomplished businesswoman in Atlanta, whose marriage had turned unhealthy. As she began to file the necessary papers, she gave her small collection of guns to a friend for safekeeping. The only pistol she is keeping in her possession , is a 38 revolver which she doesn't even like to shoot, (and does not practice with) for her protection. Her, soon-to-be, ex-husband, has a history in the military and a history with multiple forms of mental health illnesses and treatments. She has been made aware, by a friend, that her husband has privately purchased at least one firearm, and this makes her extremely uneasy.
As you might imagine, I too, am concerned for her safety. I have discussed with her, potential classes beyond the usual and have also talked to her about shopping for a a gun that will suit her better. However, what can be done about this potentially unstable man with at least one gun? As much as this man can cite his Second amendment rights in his purchasing of a firearm, personally, I believe it would be better if he didn't have the option.
I am keenly aware of the tightrope I walk in the gun blogging community. "Moderate" is not a word we use to often, but it is genuinely the way I feel about the issue. If I have anything to say about it, this woman will receive the best defense education I can find for her, but ideally I'd like to see the threat neutralized. As always, I welcome your thoughts.