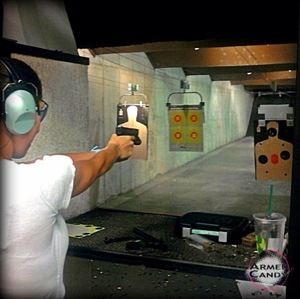 At my Georgia Carry.org speaking engagement, a few weeks ago, a woman raised an issue for which I didn't have a good immediate response. She said her place of employment did not allow the carrying of a firearm, concealed or otherwise.
Now, I can understand a person choosing one coffee shop over another, based on their corporate policy toward concealed carry, but in this situation, it seemed highly inappropriate to suggest that this woman reconsider her place of employment. I also think she wouldn't have appreciated the offer of a solution that included her defying her employer's wishes. So what could I say to this question?
In hindsight, I realized that I should have brought up the other option written right into the concealed carry laws of the Georgia code. According to our carry permits we are entitled to carry a defensive or offensive blade longer than five inches which is attached to a handle. I imagine, that if you have trained with for defensive use of a knife, four inches could be sufficient, but since we have the option, why not go with six?
I'm not saying this is the best case scenario. Knives are dangerous, and messy, and frankly, they make me nervous. And yet, I am keenly aware of the sense of power that is exuded by a woman who is armed and prepared to defend herself. Sometimes this may be all that is needed to force a criminal to look elsewhere for a victim. So maybe a knife wouldn't be right for me if I were in such a situation, maybe I would consider regular martial arts instruction, but I wanted to write this post so that the woman who posed the question, and others, received a viable option from me.