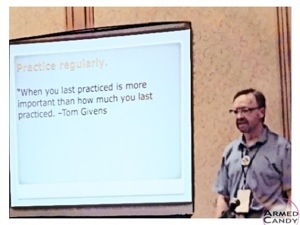 While out researching one of my first ArmedCandy blog posts, over two years ago, I was lucky enough to meet a man who is a highly regarded instructor in the firearms community. He is nationally regarded as an expert on snubby revolvers, though his knowledge seems unlimited. He is also an accomplished gun writer and has been, something of a mentor to me. Surprisingly, it was not until this past weekend, that I was able to sit in one of his lectures for the first time.
Claude Werner spoke at the Georgia Carry.org convention this weekend, on "self directed practice". It was not just that I had been looking for an opportunity to hear a lecture of Claude's for a while, but as a mostly self-taught shooter, this topic was something in-which I was very interested.
One of Mr. Werner's first statements caught me off guard. He mentioned his personal feelings against legal training requirements for gun owners. Hearing this from a man whose opinion I regard so highly, through me for a moment. Claude then went on to explain that in comparison to the number of gun owners in America, the number of certified instructors (teaching classes at maximum levels) would only be able to offer instruction to between 2-5% of them. Seeing this startling deficiency gave me a much clearer understanding of Claude's reasoning. So if we can't rely on classes to keep up our shooting skills, how can we know become better shooters and judge our competence?
Mr. Werner then went on to explain why he felt most people, going to the range, were wasting time and money and the standards by which they should actually be measuring and building their training. I will cover the tips I learned from Claude Werner's lecture on self-guided shooting practice next week, but for now I'd like to ask, do you have a self guided regimen for range visits? Do you have clear standards by which you measure the success of your practice sessions? Do you adjust your training standards as you improve your skills?