It seems that I always find myself back here – carrying a 5 shot .38 Special +P. I resolve to carry a "real gun" like a 1911, or a modern polymer pistol, and yet the gun that ends up on my belt most often is a j-frame. For a while, it was a 3-inch Model 60, which I regrettably sold, and now it's a S&W 640 Pro Series. I was pondering on this, why do I always default back to a j-frame at the end of the day when I "know" that I should be carrying a bigger gun that holds more bullets.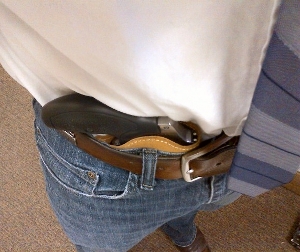 I usually carry the j-frame exactly as pictured, in a simple Blackhawk leather holster at the AIWB position. This gun/holster combo prevents me from re-holstering one handed, so I treat it much like I'd treat a Raven Vanguard "holster." It's there to cover the trigger guard and keep me from putting an XTP into my femoral artery. If the gun comes out of the holster, the re-holstering process means that I take the holster off my belt and put the gun in it, then re-holster. The whole rig is very simple, and it goes on just as easy as it comes off. If I have to go somewhere during my work day that frowns on guns, it comes off without having to fuss around your belt line in a parking lot, which just looks shady.
Simplicity is a big part of why I come back to this rig over and over again. Another reason is my personal risk assessment puts the likelihood of getting into a gunfight pretty low. I don't carry a reload, either. I guess I figure that if I'm in a situation where going loud with a j-frame is my best bet for survival, then I'm having a really improbably bad day anyway and a 3-second speedloader reload is going to be about 3 more seconds than I have.
Mostly, I do it because it's convenient. I believe I should carry a gun, and wear my seat belt, etc. I also carry a knife at all times, because these are all useful things to have on my person. The j-frame is a definite upgrade from my old Beretta Jetfire, but it's still light enough and easy enough to carry that it won't get left in my safe like many of my other larger, "better" guns. Sure, I could buckle on my P229 every day, or take the time to strap on a full-size 1911, but I don't particularly feel under-armed with five shots of .38 Special +P, so why bother?
Do you have a gun/holster combo that you default to even though you "know better?" Let me know your thoughts.