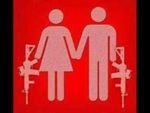 I talk a lot about couples that bond over guns. They enjoy going to the range together, cleaning their guns together, or some other guncentric activities. I've also discussed all sorts of issues regarding women being responsible for their own personal defense. However, as a dating woman there are certain questions that arise somewhere between single life and coupledom.
Going out on a blind date while carrying concealed, seems just as reasonably cautious as carrying to the grocery store. If I guy realizes I'm packing (for one thing, I'm doing something wrong) and feels that I'm not the right gal for him because of that, then he's probably right. Then again, I have been known to get a bit lazy when dating a guy who carries regularly. Maybe it's my deeply suppressed damsel-in-distress coming out, who takes advantage of a moment where she can only be the protected, not the protector. But this leads me to a pressing dilemma, is my date prepared to protect us both? What is he expecting of me, a gun girl, in an emergency situation?

Couples who both carry, I ask you, have you discussed how you would handle different threat situations? I know that plenty of families have bug out bags for every family member, and their pets, but what if the two of you go out to dinner and a movie? Back when I was a child, if my parents went away together (without us kids), and they were flying, they always flew separately. Way before "prepper" was a household term, my parents felt that if a plane went down, or was hijacked, (god forbid,) one of them would still come home to my sister and myself. If you and your honey were in a movie theater or a restaurant with an active shooter, have thought about your best case scinareo? Would you cling to eachother, or separate in order to play the odds. Should one or both of you attempt to suppress the threat, or will it be every person for him or herself?
Oh and one last question: Should the single girls, like myself, bring these questions up on the second date or wait until the third? (Rhetorical, of corse!)