Stop me if you've heard this one:
I'm really excited for the class, I hear the round count is going to be 3,000 rounds, and the instructor said it's all "high-intensity shooting."
In our ever crowded training and competition community, one of the ways that instructors and match officials are demonstrating value to potential students and attendees is with high round counts. It makes sense if you look at it from a weekend warrior point of view. Whether you're a competition shooter or a training junky, if you're going to fly/drive a long distance, pop for a hotel and food while you're there, you probably want to shoot more than a couple hundred rounds. I knew that when I was first starting out, I was obsesses with round count as an indicator of quality.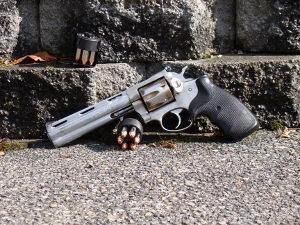 If you showed up at a lot of classes these days with a revolver, people would look at you like you're some kind of masochist, and in many ways you would be. But as round counts continue to balloon in training classes and matches, we should stop and ask ourselves a serious question – what am I getting for all these bullets?
Let's look at training classes first, and then matches. In a training class, there is an expectation that you'll shoot more bullets than you would in a solo practice session. I've taken classes that had round counts as low as 200, and as high as 2,000. In that time, I discovered that there is absolutely zero correlation between the number of rounds I fire and how much I learn. I've had major breakthroughs in 1,000 round classes, and I've had major shooting revelations in 250 round training sessions. A much better indicator of how much I will or won't learn is the student/instructor ratio. If I'm in a class of 25 dudes and there's one instructor, it doesn't matter how many rounds I shoot, I won't learn as much as if I'm in a class of 5 people with one instructor. Face time with the trainer is a lot more important than hosing bullets into the berm. Unfortunately, hosing bullets into the berm is what many "high intensity" training classes consist of. If I ever wanted to make a bunch of money, I'd grow a beard (check) and start Foxtrot Action Group Training and hold 2-day, 3,000 round classes that consist largely of yelling "CONTACT" and doing Bill Drills into targets from 3-5 yards because it's "realistic." Ultimately, it doesn't matter how many or how few rounds you shoot during a training class. If the instructor(s) are good and on their game, you'll learn something. Quality of instruction is a lot more important than round count.
But what about major matches? This is actually a more complicated question, because again, shooters who travel to a major match want to feel like they did something over the weekend. I once flew 5 hours one way to a major, and shot less than 150 rounds. I've shot major matches where the round count was 350+ rounds. My opinion is that round count is a lot less important than good stage design. Now, this is where things get subjective, because different people like different sorts of stages. I like tough, technical stages that create shooting challenges that force me to push my marksmanship skills. I don't particularly like hoser stages, and I don't like memory stages either. But stages with 25 yard partials? Yes please. I realize that a lot of that is personal taste, and there are plenty of people who like hoser stages. Heck, I even enjoy the occasional hoser stages, sometimes it's nice to just blast away and not really aim the gun. Although I don't know anyone who particularly enjoys memory stages, but I would imagine there's someone who does.
However, matches are different from training classes. Because each division competes only against the other guns in the division, there's no equipment advantage. It's not like going to a 3,000 round training class with an M&P Shield and having to constantly reload while the guys carrying Glock 17s with weapon lights and 33 round mags are blazing away. At a match, every other shooter in your division is similarly disadvantaged. That makes stage design incredibly important. It's entirely possible to have a great, high round count match, if the stage design is good. Similarly, it's possible to have a great, limited round count match…if the stage design is good.
A discussion what makes good stage design is beyond the scope of this post; and in fact will be something I address later in the week. However, as I come to the final conclusion, I want to re-focus on the point. Round count shouldn't be used as an indicator of quality. Having a high round count simply for the sake of having a high round count doesn't make a match or a class good. The opposite is also true: a high round count doesn't mean a match or a class is bad. In classes, the quality of the instructor and the curriculum will determine the class value. At a match, it's all about stage design. Good stage design will make or break a match.