Six months ago, I wrote a post called "a day in condition yellow" which talked about the color coded conditions of readiness. Then a couple of days ago, I wrote another post talking about how I don't get all spooled up every day because "I might get in a gunfight today".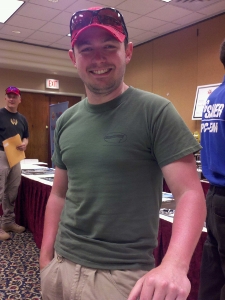 In the post on Condition Yellow, the final bit of the post says this:
When you're thinking about the Conditions of Readiness, think about all of them. Think about when you're really in Condition White. Think about what Condition Yellow really means. Think about what triggers your change up to Orange. And most importantly, think about the triggers in Orange that let you go to Red. Set those triggers, in a quiet, peaceful moment. Because if you're trying to decide whether or not to shoot someone while walking home after a movie, it's probably too late.
This is what I'm talking about when I say that I don't go around every day thinking "what if I get in a gunfight today?" I've already made my mental preparations for a fight. I already know under conditions I'm morally comfortable using deadly force, and I've set mental boundaries of behavior that will allow me to "go loud", as it were. I have an escalation of force plan.
I did all of that quietly, in the comfort of my home. And none of that requires me to obsess about crazy "what if" scenarios every day. I sit with my back to the door in restaurants, I go out to movies with people, and I even voluntarily spend time in places where I can't carry a gun! Unlike some tactical trainers, I don't feel the need to browbeat people with how they should be READY ALL THE TIME FOR THE FIGHT REUAUAHGHGAHGHGHGH OPERATOR; and I certainly don't feel the need to go around making youtube videos about how constantly prepared and ready to operate in an operation I am. I'm comfortable with my abilities, and comfortable with my mindset. I often wonder about the people who are constantly preaching "warrior mindset 24/7" and whether or not that comes from a place of insecurity about their own skills.
It's in vogue right now for people to get caught up in this concept of a "CCW lifestyle" or whatever people are calling it. Which is cool, because hey, whatever floats your boat, brah. But it's not for everyone. Carry a gun doesn't define who I am, it's just a part of the whole. I don't make decisions based around "well I'm carrying a gun so I probably shouldn't do that" any more than I'd make decisions based on the color of my pants.
What I'm saying is that there's a huge gulf between "being ready", and all of this tactical CCW operator chop-sockey floating around. It's okay to be in Condition White sometimes, people.