Tim's excellent post on the "dangers of fists" has attracted attention from lots of corners of the internet, and it's become apparent that quite a few people are really unclear on how the concept of disparity of force works. It's not a complicated subject when you get down to brass tacks, but because a lethal force event is so subjective, people get all kinds of issues tangled up in disparity of force.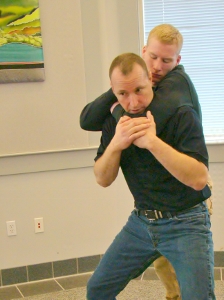 In the picture at right, taken at an InSights Training Center Defensive Folding Knife class, you have a classic disparity of force situation. Despite both people being roughly the same size, the person applying the choke has a tremendous force advantage over the person being choked. Generally speaking, the person being choked would be justified using deadly force to escape this attack. As Tim mentioned in his post, being flat on your back and receiving punches is also frequently regarded as a disparity of force as well, regardless of the relative capabilities of the two combatants. Other fairly clear cut examples of disparity of force would be a 6'3 man attacking a 5'3 woman, or a 33 year old man attacking a 7 year old kid.
Disparity of force can also occur if an attacker is armed with a contact weapon, gains a position of advantage such as a choke or mount (as mentioned), or has the element of surprise. However, contrary to the post-Zimmerman verdict belief, you cannot just drill someone who is "unarmed" and then claim disparity of force/self-defense. That's just not how it works. Proving that you were at a force disadvantage is a quite important part of a self-defense claim. It also has nothing to do with "Stand your Ground" laws, because (at least where I've lived) if someone has attacked me, knocked me to the ground, and is attempting to smash my face into paste, I'm pretty much free to do whatever I want to them.
So let's play this hypothetical situation out with a number of different options. We'll start with you (the victim) has been attacked, knocked down, and your attacker has now mounted you and is punching you in the head.
Option 1: Hand to hand
In this option, you're a trained fighter. You successfully defend yourself from the mount position, and in so doing strike your attacker with an elbow directly above his temple. He goes into a coma, and later dies. Are you criminally responsible for his death?
Option 2: Less-than-lethal
While being attacked, you're able to retrieve your pepper spray and blast your attacker. He suffers a severe reaction to the pepper spray, and dies. Are you criminally responsible for his death?
Option 3: Edged weapons
You're armed with a folding knife, and using the "strike/cut/escape" strategy, you deploy your knife onto your attacker's thigh, as it's the closest bit of meat to your blade. You escape, and run away to seek emergency medical assistance. Your attacker bleeds to death due to the deep wound you inflicted. Are you criminally responsible for his death?
In the example above, remember that you're the victim of a sneak attack. You were minding your own business when you were attacked, so we can leave any sort of prior motive on your part out of the equation. I also specifically didn't talk about guns, because the immediacy of shooting someone has a strong possibility of their death. But punching, pepper spraying, and knifing people have lower fatalities than shooting, but are all quite capable of causing death.
Let me know your thoughts in the comments.