I don't have a long list of people I want to train with. The majority of my shooting time is focused on simply shooting better. So the vast majority of "Door Kicking CCW Home Defense Operator" classes have zero to no interest for me. There are a few trainers I'm interested in taking class from, and one of those is M3 Strategies. I met Stephen, the head of M3 at SHOT Show, and we've corresponded since then – one of the things that really interests me about his classes is his training philosophy of "shoot better." Sounds pretty familiar to my own ideals. We've also talked about the value of working with low percentage targets and then moving up to big targets and cranking the speed; again a concept that I'm very much in favor of.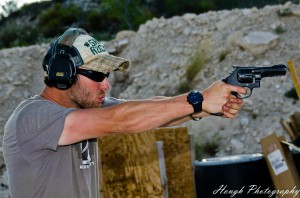 In fact, I was supposed to be taking a class with M3 Strategies and KC Eusebio this weekend in Atlanta, but unfortunately wasn't able to pull the travel cash together in time to get down there and train. However, M3 will be heading to my old stomping grounds on September 7th for a class at West Coast Armory, which I'd recommend you check out.
One of the most important aspects of professional training is mindset; which is why I'd recommend Stephen and M3 without having trained with them. Stephen has the right mindset about training people; he's not doing it for ego, or to be a famous trainer with big endorsement contracts. Stephen trains people because he's passionate about helping people shoot better, and also has the mind of the perpetual student himself, always looking for ways to improve his shooting.
Check out the full list of M3 Strategies' available classes (including one with USPSA GM Frank Proctor) and sign up today!