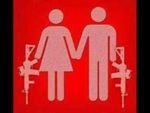 Last week's "Dear Gabby" inspired some follow up questions so I'd like to address those, and I hope other female readers will chime in, to help the guys gain some clarity on this issue.
Some women have discovered that yes, the range is a great place to meet men. Other women feel that because they are serious about shooting, they will not mix flirting and firearms. There is, however a third group of ladies, those that both, take shooting seriously, but would also be happy to meet a gun guy they could call their own.
So how can men tell if a woman is into him, or his guns?
I'll use myself as an example. There's no question I'm serious about guns. Yes, I show up to the range with my colorful gear and a big smile on my face, but that's because I love the gun world, not because I don't take it seriously. To complicate this example, I have been known to accept some date offers but not others, from men I have met while shooting. (I did not, however, date customers while working as a range employee, that was a line I chose to draw.)
So why did I turn some guys down? In most cases the guys asking were not random. I had met them more than a few times, and gotten to know them a little. They didn't get a "yes" from me because, other than guns, I didn't feel we had much in common. Sure, I enjoyed the gear talk and sharing the latest tips, but I didn't get the "spark" necessary to take it further than friendship.
I doubt getting turned down is anyone's favorite outcome, when asking someone out, but that doesn't mean guys shouldnt try. They just need to be smart about it. Here is what I know for sure:
• Single girls at the range don't mind being asked out.
• Single girls do mind being asked out repeatedly (especially after they've said no thank you).
• We go to the range because there is a lot to be learned from chatting with you knowledgeable, long-time shooters. However, just because we appreciate your wisdom, doesn't mean we owe you anything ie a date.
• No one should ever lie about thier shooting abilities just to spend "quality" time with another.
• Chauvinist pigs, those who are lazy about safe gun handling and "handsy" "instructors" need not apply.
Ladies- Has a guy ever missed the hint at the range?
Guys- Not sure whether to go for it?
Let's discuss in the comments…Happy Hump Day!