The Colt 1911 pistol fascinates us. It captivates the mind, evoking images of our great-great grandfathers fighting the Huns in World War II, or the Greatest Generation taking the fight to the Axis Powers during World War II. In modern times, it is the weapon de rigueur of the elite internet operator, who eschews modern polymer pistols in favor of a "more elegant weapon for a more civilized age." Yet millions of pixels suddenly cry out in terror and are suddenly silenced each year online in search of the most reliable 1911. Luckily, we're able to drawn on the advice of some of the foremost experts in the 1911 field to create this step by step guide on to make your 1911 100% reliable in any situation.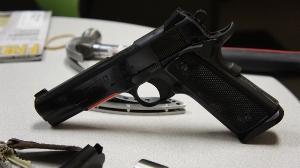 How to make your 1911 100% reliable
Detail strip your 1911
Carefully inspect every small part
Thoroughly clean and lubricate all moving parts
Check to make sure your extractor is properly tensioned
Carefully reassemble your 1911
Function test the grip safety, thumb safety, and firing pin
Fully lubricate all wear surfaces on your 1911
Wipe down the exterior of your pistol with a corrosion resistant lubricant
Once all that is done, take your 1911 and put it in your gunsafe, wrapped in an oily cloth to prevent rust. Your 1911 is now 100% reliable, and will never malfunction or experience a parts breakage as long as it sits unmolested in the back of your gun safe. Now go buy a modern polymer pistol in whichever service caliber kicks over your personal giggle box and use that.
Problem solved, problem staying solved.