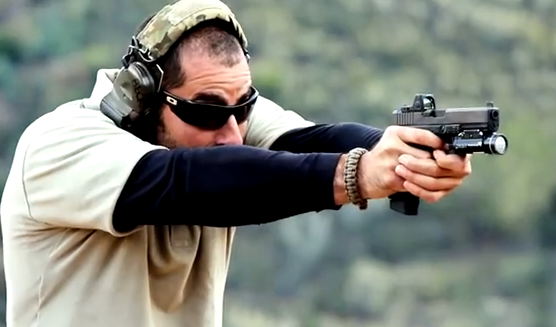 Meet the Tactical Turtle Stance. I used to shoot like this, until I realized that it's not very good. The image above is a screencap from this video. Today I'm going to talk about the Tactical Turtle and why it's not a very good way to shoot a gun. Unfortunately, I am but a lone prophet in the desert, because the Tactical Turtle is rapidly becoming the dominant handgun stance in the "tactical/ccw" firearms community.
If we go back to the foundation of modern pistol shooting, aka the Modern Technique of the pistol, we find the Weaver Stance. Weaver is still taught at Gunsite, although the Weaver of 2013 looks a little bit different from Col. Cooper's Weaver back in the day. Be that as it may, Weaver is Genesis for modern pistol shooting. As IPSC shooters pushed the envelope of shooting performance, Weaver fell out of vogue because it didn't offer the physiological advantages of modern isosceles. The Tactical Turtle was born of Modern Iso when applied to rifle shooting. If you look at the Turtle, the head is down low, in a similar position to where it would be if you were looking through a rifle optic.
There are some benefits to the Tactical Turtle. It is an excellent stance for shooters who lack upper body strength for controlling recoil. It is readily adaptable from long gun to pistol and back. It also isn't very good if you want to be really good at shooting.
In the action shooting sports, the concept of stance is somewhat mutable. We run around a lot, and shoot from awkward positions. You really only see consistent "stances" on classifier stages or in Steel Challenge. I'll give you a little tip: none of the top GMs use the Tactical Turtle stance. In fact, to a man they all stand up relatively straight with their weight biased forward on the balls of their feet. There are some very good reasons for this.
First is vision. The Tactical Turtle stance puts your head down low, between the shoulders. That puts your eyes not in a natural line with the pistol's sights, forcing you to look through the "top" of your eyes, or roll them up somewhat to see the sights. Contrast this with the "gamer" stance, where the pistol is instead brought directly into the eyeline, and the shooter can look directly forward, taking the most advantage of the way we see.
The next problem with the Turtle comes in the form of target transitions. With your head hunched down between your shoulders, the act of snapping your head and eyes to the next target for a speedy transition is harder than if you're in a more erect posture. Try it. Get in the Turtle, focus on an object 5 yards away and then whip your head to focus on another object at the same distance. Now do it with a more upright stance. It's easier when your head is up. Think about Steel Challenge, which is all transitions at high speed. No tactical turtles in the top 10 there.
Problem number three is muscle/joint fatigue. Hunching your shoulders like that is tiring. Locking your elbows increases the impact of recoil on that joint, which can cause all manner of problems (like tendinitis). Intentionally using a stance that causes muscle fatigue and joint pain doesn't really seem smart to me.
Of course, the advocates of the Tactical Turtle stance will tell you that "under stress" in a "dynamic critical incident" your body's startle response will force you to default into this position. So essentially, what they're telling you is that there is no way to train yourself to be better than your startle response. That's bullcrap. Most drivers startle response when something bad happens is to hit the brakes, regardless of whether or not that's the smartest action. We see danger, we want to stop. However, driving schools can and do teach that sometimes speeding up and driving around is the best response. Race car drivers and cops are two examples of groups of people who have trained past their startle response. If they can do it, so can shooters.
Don't train to be someone who panic stops. Train to be a racecar driver. Train to be better than your evolutionary survival reflex.