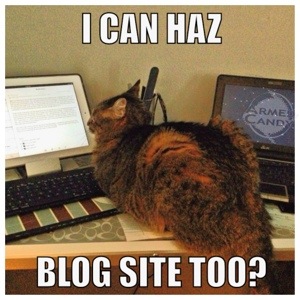 There's been some talk lately, about gun-bloggers and the quality of their information. Obviously, the mainstream media outlets are no place to get quality firearms information, so like gun people do, we talk to each other. Blogging is really just a large scale version of what we all do at the range. However, when you're at the range, you can size up the information source and decide whether it's worth your time to listen. Bloggers get to enjoy the anonymity that the Internet provides and they can say almost anything they want, in the hopes of drawing in suckers readers.
I present to you Part 1: Basic guidelines for judging the quality of a gun blogger.
(In Part 2 we will discuss the less basic points.)
• Do they serve up readable content?
Bloggers are not novelists, nor do they always have editors. In the rush to get their content out quickly and often, a misplaced word or comma might sometimes slip through the cracks. However, if a blogger's content is sloppy and clearly lacking any depth of thought, then it's likely they don't respect their reader enough to give them worthwhile information. We're not writing about origami here. I doubt anyone has ever lost their life in a paper folding accident. Guns can be dangerous when not handled properly. I believe they deserve as much respect when handled as they do when being blogged.
• Does this blogger have a clear point of view?
No on can be an expert on everything so the best thing a blogger can do is define their territory and stick to it. For the experts, this is usually based on their experience and training. However, there are plenty of quality blogs out there, written by non-experts too. The idea is, that they stick to what they know and write from a perspective that is true to their experiences. A girl gun blogger like myself, shouldn't suddenly start reviewing highly specialized tactical equipment, just as a male gun blogger has no business telling me about carry purses.
• Does this blog get their facts right?
Most of what flies around the Internet is opinion, but when it comes to firearms, certain information is either fact or it's crap. Safety rules are a perfect example of this. If you see a blog with an image of a person holding a gun in an unsafe manner, unless the post is about why that image is portraying unsafe practices, I implore you to leave the site and never return. Other facts may be less obvious. If a blogger were to mention an antique rifle and tell me it was a certain caliber, though that gun was never manufactured in such a caliber, I probably wouldn't notice the error immediately. However, comments are wonderful tools for readers in the know, to call-out a blogger errors so that misinformation does not spread. If a blogger wants a solid reputation, they will do their homework, or at least, a quick web search.