So you're going to shoot your first Alphabet Soup Action Match, eh? You know you don't want to shoot it using your SuperX-Ray Tactical Concealment holster, but you're just not sure what to buy. Maybe you're unsure as to which brand to get, since holster makers are a dime a dozen these days, and it seems like everyone with an oven is folding and riveting kydex.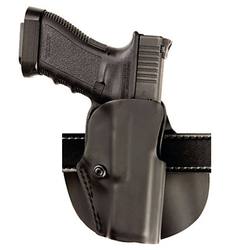 I am going to save you a bunch of trouble. What you should do is go to either Blade-Tech, Safariland, or Comp-Tac and buy one of their outside the waistband belt or paddle holsters. There, you're done. No muss, no fuss and you have a great competition holster that will last you basically a lifetime. Blade-Tech even makes their injection molded Revolution line which keeps the price point down but maintains their reputation for quality.
Deciding which company to go with is a matter of personal preference. For example, I like that Comp-Tac offers holsters in bright red, because red is my favorite color. I like Blade-Tech's single stack magazine pouches a lot, and I like Safariland's ELS belt system. The Safariland ALS is basically the best retention holster ever made, and Comp-Tac's speedfeed magazine pouches are a neat way to fit a lot of mags in a smallish space. Blade-Tech makes really good kydex reinforced belts, and so does Comp-Tac.
People spend a lot of time and money on gear that isn't quality, and I don't understand that. If you want to shoot IDPA, the dominant holsters at any IDPA match are Blade-Tech and Comp-Tac, with Safariland taking 3rd. Go get one of those and be happy.