Being a good shooter doesn't qualify a person to be a trainer. In fact, just being good at Thing X doesn't necessarily qualify a person to teach people Thing X. Let's take a step back from the shooting sports and examine this for just a moment.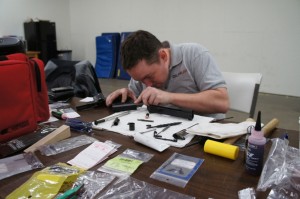 Béla Károlyi is regarded by many as the greatest coach of Olympic gymnasts. If you take a look at pictures of the man, he is not a gymnast, and is physically incapable of performing the moves that his gold medal winning athletes are required to execute. The same is true in other major sports as well; many great football coaches were once players, but few had Hall of Fame playing careers. Jim Harbaugh, now coaching the San Francisco 49ers was a good quarterback during his time, but never really spectacular. However, his coaching career has been one of the best.
Bringing this back to the shooting sports, the point I'm driving at is that simply being good at shooting doesn't necessarily qualify a person to teach other people how to shoot. I have taken classes from people who are very good shooters, but aren't very good instructors because they're not able to impart what's made them good at shooting to their students. For example, a shooter could make USPSA GM by shooting 35,000 rounds in a year and spending all their time at the range, while another shooter could make GM shooting 5,000 rounds in a year and doing countless hours of dry fire. There's nothing wrong with either approach (although one is considerably more expensive) but the danger is that if one of those GMs then starts teaching classes and believes that because he made GM via route X, route is obviously the best path for all shooters to make GM. That sort of teaching style ignores the fact that all students are going to process input differently and have varied learning styles. Some guys need to swing at a million curveballs before they can learn to hit it, and some guys can watch tape and figure it out.
The inverse of this is an instructor teaching material that's over their head. Using my own resume as an example, "teaching over my head" would be putting on a class where I say that I'll teach you "the secrets to becoming a USPSA Grandmaster." I'm obviously not qualified to teach that. I would however teach a class called "Accuracy 101" that focuses on accurate pistol shooting, because teaching beginning and intermediate students how to squeeze more accuracy out of their guns is something that's in my lane. So then what makes an instructor good? Here are some basic qualifications that I'd recommend you look for in any instructor; or if you're thinking about teaching classes yourself you should look to posses.
Has a basic understand of adult learning methods (this paper is a good starting point)
A good trainer should be taking classes from other instructors and seeking to expand their knowledge to stay on top of developing techniques
Acknowledges other training methods, even ones that he/she disagrees with. Beware trainers who preach "this is the only way"
A good trainer doesn't teach their results, they teach the methods they used to achieve those results
Is willing to recommend other trainers and schools for students looking for a different type of training – an example would be a tactical/CCW trainer that recommends competition training for students interested in that route
Obviously, this isn't an all inclusive list; good trainers should also have a basic understand of the difference between individual learning dynamics and group learning dynamics, they should be knowledgeable about the different types of equipment students bring, etc. There are a lot of attributes to a good instructor, and the truth is that someone whose instruction style fits your learning needs may not be the best teacher for someone else's learning needs.