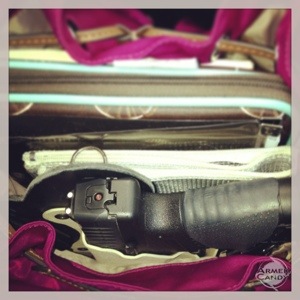 A day before last weekend's trip to Asheville NC, my mother said to me,
"You're not taking the gun with us, are you?" I informed her that this was, in fact, my plan, because when my family comes to my neck of the woods, I feel it's my responsibility to protect them. She then worried that this would upset my sister, who is basically anti-guns. To which I replied that she needn't know I was wearing it. Then my mother asked,
"So you're going to wear it everywhere?!" Matter of fact-ly I said,
"That's how it works."
**and scene**
I may be a grown woman, but I hate to upset or disrespect my family. I realize that concealed carry is not a part of their everyday lives, living in New York City, but it bothers me that they live in this defenseless state. I have been involved in the gun world for over two years and have VERY slowly introduced them to the basic principles, but we still have a very long way to go.
Knowing that I would be sharing a hotel room with my sister, I seriously considered leaving my pistol in Atlanta, purely for her peace of mind, but in the end, it had to come. I should mention that my sister is a wonderfully tolerant person and she's not a total lefty. Still, every morning in Asheville, I closed the bathroom door and strapped on my ccw. I wore shirts that were long in the back and less form fitting than I would have normally. If I had to leave the gun in the car, I did so as discreetly as possible and only once I was alone in the vehicle. A week later, I have no idea if she noticed, but she hasn't said a word.
After our initial conversation, my mother didn't bring up my gun carrying ways again during the entire trip. My step-father, would not have cared either way, but I doubt he would have noticed if I had been carrying openly. My gun-free-family surprised me this weekend because of their growing tolerance toward my gun-toting lifestyle. They don't love it, but they accept it as a part of my life. They see that I am not a criminal, nor am I dangerous in my firearm handling, and they are coming to realize that a gun may not be the root source of violence in the world. Maybe, slowly, I'll be able to convince everyone else.