I'm well past my limit with other people pointing guns at me. I've lost count of how many times I've looked down the muzzle of a gun when I'm on the range trying to take a class or do some practice. I'm sick and bloody well tired of having my life and personal safety put in jeopardy because someone is carelessly handling a deadly weapon.
Invariably when I mention to someone that hey, maybe not point the gun at me or anyone else that you don't intend to kill, a good 80+% of the time I get some sort of pushback. Lip from the person who just pointed a gun at me. Like somehow I'm the one with the ***CENSORED*** problem because I take offense to someone carelessly pointing a lethal weapon at me. On more than one occasion I've encountered a real supercalifragilisticexpialidouche-bag who has the unmitigated temerity to ask "What's the big deal?" when I try a little good-natured reminder to, you know, not do dangerous stuff that might kill someone.
What's the big deal? WHAT'S THE BIG DEAL?
Let me break this down: Guns are lethal weapons. Their raison d'être is to kill people. When you get stupid or careless with a lethal weapon in your hands, you have a high likelihood of killing or severely injuring someone. When someone points out that you're doing something incredibly dangerous and irresponsible, you don't have the right to get offended. I don't care how they phrase their complaint, or how little consideration they have for your feelings in voicing it…if you're pointing your weapon at someone then you deserve whatever comes your way as a result. Most of the time people who mention the safety issue are perfectly reasonable in how they do it, but even if they aren't….even if they cuss you up one side of the tree and down the other, they aren't the ones who endangered someone else's life. You did. Thus you don't get to be offended.
People frequently are offended, though. They seem to think that because they didn't mean to point a gun at me or someone else that it's somehow not a "big deal". Bullets are stupid, folks. They leave the barrel at the same velocity and do the same damage on the other end whether you fire them by accident or on purpose. You don't have to take my word for that. So yeah…it's a big damn deal.
I don't know why, but everybody likes to think they're a special snowflake when it comes to firearms safety. That somehow "unsafe" works like the old Indian caste system or leprosy. As if there are "safe" people and "unsafe" people from birth and then they reject any suggestion that perhaps they're doing stupid things because they're a "safe" person. I was at a handgun class sometime ago where we did some low-light shooting. There were two relays in the class and the other relay was up on the line shooting while my relay was loading magazines for our turn. Out of the corner of my eye I saw three faintly glowing dots and it took a brief moment for my mind to process the significance of seeing three dots: Someone had their weapon out of the holster directly behind the first relay.
Now I was not the instructor or an assistant instructor for the course. So was it any of my business if someone was handling their pistol improperly?
You're damn right it was my business. Go to just about any range and I guarantee among the range rules will include something to the effect of "Range safety is everyone's responsibility" and "Anyone may call cease-fire at any time if they see an unsafe condition" written in them. These were prominently posted rules on the range we were using for the class.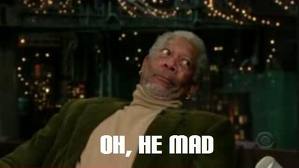 I approached the individual and found that not only did he have his weapon out of the holster, but the muzzle was pointed directly at the spine of the person on the first relay a mere six or seven feet in front of him. I spoke up and told him that guns were to stay in the holster when we were not on the line actually shooting drills. He brushed me off with "It's ok." I persisted by informing him that no, it's not ok because "Dude, you are pointing your Glock directly at my friend's spine." This seemed to ruffle his feathers sufficiently that he felt compelled to remind this obnoxious young whipper-snapper (namely me) that he was a Marine umpteen years ago. "Did they teach you to point deadly weapons at innocent people in the Corps?"
I'm sure he thought I was a jerk but, and I cannot emphasize this strongly enough, I wasn't the one screwing around with my gun pointed directly at another human being. I consider putting somebody in a body bag or a wheelchair because one can't follow basic firearms safety rules to be a heck of a lot farther into "jerk" territory than the guy trying to correct the problem before someone gets hurt.
In Pulp Fiction a character named "The Wolf" shows up briefly to help out Vince and Jules after Vince accidentally shoots a guy in the face in the back seat of the car. Mr. Wolf arrives on the scene and begins laying out what needs to be done to clean up the mess. Vince, the guy who made the mess by shooting poor Marvin in the face, objects to Mr. Wolf's brusque tone. Mr. Wolf responds "If I'm curt with you, it's because time is a factor." Accidents with lethal weapons happen fast, folks. If there's a gun in your hand we don't have time to sit and chat at a leisurely pace about what you're doing wrong. The danger is real and immediate. Corrective action needs to happen now. This instant. If I'm curt with you, it's because time is a factor. Feelings aren't the big problem in the moment where your gun is pointing at someone who doesn't deserve to be maimed or killed.
I hear people talking often about "big boy" range rules, but I don't often see them discussing the other half of that walnut: Big boy range rules go along with big boy accountability. That means if you screw up, you own it and you correct it. If you're on a range with the big boys in Dam Neck and you muzzle somebody, do you know what's likely to happen? You're likely to get a high-decibel safety briefing at uncomfortably close distance. Get all defensive about it and you'll likely be permanently banned from the range. Do they react that way because they're a big bunch of meanies? Or, here's a thought, maybe it's because they've actually had teammates injured or killed because of range accidents and as a result have a very low tolerance for anyone who is doing things that might cause another one.
Yeah, I'm ranting. Fact remains that there's a real issue here that deserves to have some attention. As ranges get busier and more people crowd on to them the chances of serious accidents go up. Just a couple of weeks ago a friend of mine was narrowly missed by a round of .45 hardball because some dude who insisted he'd been shooting for "years!" (as if that has any bearing on anything) couldn't figure out how to work his 1911 well enough to avoid unintentionally launching a round right past said friend's leg. On the plus side, he now knows why I keep a first aid kit handy when we're on the range.
We need everybody (that means you) actively watching for safety problems and proactively trying to fix them before blood gets spilled. We also need to remain open to someone approaching us with a safety issue. Yes, I said "we", as in you and me. I'm as human as the next guy and therefore just as capable of doing something stupid with a gun as any other human being on the planet. I have worked really hard to ingrain safe handling practices and I make a deliberate effort to keep my brain screwed to the end of the muzzle when there's a gun in my hand or hanging around my neck…but I can still screw up. We all need to own the fact that we're human enough to screw up with a gun in our hands and have sufficient humility to accept correction when it's offered. At the same time we need to be assertive enough to actively get involved when there's unsafe handling going on. Bad gun handling doesn't get better on its own. Quite the opposite, I'm afraid.
Gun people often make the personal responsibility argument in public policy debates…well how about we as a community actually embrace a little bit of it when it comes to handling these deadly weapons on a range? This means thinking really hard about where our muzzle is pointed, where our trigger finger is, what our target is, what the backstop is, and what we are going to do should disaster take place. This means being perfectly willing to accept warnings from others that we're violating safety rules.
Invariably someone will be offended. Tough. If they're carelessly pointing deadly weapons at other human beings then they deserve to be offended. If they're defensive about unsafe handling that endangers the lives of innocent people, then they deserve ridicule and derision. This ain't about feelings, it's about stopping unnecessary tragedy. Someone who refuses to go along with that program ought to be shunned because sooner or later they are going to kill someone.
Let's stop reciting the major firearms safety rules and start actually applying them to how we handle firearms. There's absolutely no room on the range for hurt feelings over safety issues. If you can't hack it when someone points out that you're doing something unsafe, stay home. You don't need to be handling lethal weapons.
Shooting someone is a big deal. Pointing your gun at an innocent person isn't OK. If I've seen you do something unsafe and mention it, no…you don't know what you're doing. Knock off the petulant whining and watch your muzzle. The objective here is having people leave the range with the same number of holes they had in them when they got there. Screwing this up means loss of life and limb. This is important, and we as a community should not suffer foolishness that endangers lives.
[/rant]