Hopefully in last week's column we sufficiently demolished the idea of open carry as a magic talisman that wards away bad guys that we don't ever have to see it again!
I'm kidding, of course. No really bad idea ever truly dies. It's like one of those particularly unpleasant strains of VD that's always around but just flares up now and then. Regardless of how many sensible people make the point there will always be some hammerhead out there who will insist that somebody with their face stuck in a cell phone and absolutely zero awareness of their surroundings that happens to have a S&W snubby on their hip is going to scare the bejeezus out of every bad guy in a 3 mile radius.
…but instead of lamenting about humanity's proclivity to embrace perpetual stupidity, let's move on to some other myths/misconceptions about open carry.
2. Open carry is faster
Yes, actually…kinda. For most people open carry in the sort of holster most people openly carry in is, in fact, a little bit faster on the draw than concealed carry. That's true in large part, however, because most people don't really invest a lot of time and effort into developing a proper draw from concealment. I certainly don't put all of that down to laziness. Go to ranges open to the public and odds are about 50/50 that they don't allow people to draw from the holster for "safety" reasons. I've even attended concealed carry courses where no concealed draws were allowed and the topic wasn't broached by the "instructor". Now it seems to me that if we're going to be all gung ho about people carrying a handgun that at some point it's probably a good idea to dedicate some time and training space for them to actually, you know, learn how to draw their gun.

For many reasons, people don't work on their draw or tailor their mode of dress to the method of carry they'll be using. In the same way that there are people out there packing a Ruger LCP or NAA mini-revolver as their primary because they don't have the knowledge/experience to know that they can effectively conceal a better gun, there are people open carrying because they believe that they're much faster on the draw with an open carry rig. Investing in quality carry equipment and working to improve one's skill on the draw would dramatically alter that state of affairs. If I could take 100 skilled shooters and time their draw from a concealment rig they've practiced with vs. an open carry rig they've practiced with, I dare say the difference in their draw times would probably be less than 1/2 a second. Now half a second certainly isn't something to sneeze at when we're talking about incidents that last only a few seconds, but it's also not exactly the night vs. day difference that many believe it to be.
Generally when I see someone who insists that they're "faster" as a reason for open carry, I'm not talking to skilled shooters. Generally it's someone who has trouble reliably performing a concealed draw due to poor choices in clothing and carry equipment. Their open draw is usually nothing to write home about, either. I hate homework as much as the next guy, but I promise you that drawing the gun and getting it into action is a pretty darn important skill and it's worth investing time and effort into practicing the skill and getting the right equipment for the job. It's also one of the skills you can do a considerable amount of work on with dryfire, which might be quite beneficial in these times of ammunition scarcity.
Note that I keep saying "right equipment" in regards to carrying a handgun. I keep saying that because…
3. I'll be able to defend my gun from a weapon grab
I hate to be the bearer of bad news, but most who utter that line either in their head or on forums are nowhere near the truth with it. I got quite a bit of response to the photo I included in last week's writeup of the female security guard who was asleep on a park bench. I used that to illustrate the concept of "free gun" that I've formed when watching most of the open carriers I've seen out and about in the world. The truth is that even she is significantly better off than many open carriers in terms of defending against a weapon grab because at least she's using a holster that's somewhat resistant to an attempt at a weapon grab.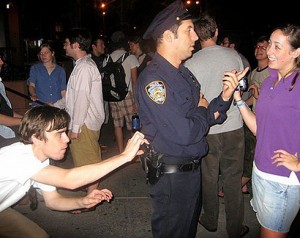 Most people I've seen carrying concealed are doing so in inferior quality kydex rigs or in some sort of pitiful nylon rig…neither of which will actually do much in terms of helping to protect the gun from being snatched. You'll note that police departments require their officers to use holsters with multiple levels of retention. They have this requirement because typically when someone tries to snatch a police officer's pistol they're doing so by surprise. If the officer was carrying in some of these horrible gun pockets (some of them don't really deserve the title of "holster") then the bad guy would pretty much own the gun the second they laid their hands on it. With a good retention holster from Safariland, however, the officer at least has the chance to fight for the gun.
…not that fighting for the gun is easy, mind you. Most who talk very confidently of their ability to defend their pistol from an attempted snatch have never actually tried to do it against a resisting opponent. This statement includes a bunch of strip-mall dojo "martial artists" who perform snazzy techniques against cooperative students. I've attempted to defend a Sims gun and an airsoft gun against real live folks trying very hard to get the gun so they didn't end up being shot in the crotch and I have to say…it wasn't easy, certainly not as easy as some of the people demonstrating on Youtube seem to paint it. It also must be said that I was attempting to defend in an environment where I knew this was going to happen…it's a whole different ballgame when you're trying to defend against one that catches you by surprise.