By now you should know that Top Shot: All-Stars is going to premiere May 29th, and as usual Gun Nuts will be providing you with the top notch coverage you've come to expect. With that in mind, let's take a look at the roster for the All-Star season. In alphabetical order by first name, of course.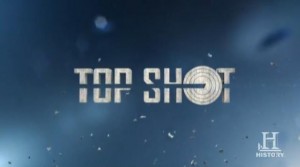 Adam Benson: Season 1, 6th place
Alex Charvat: Season 3, 5th place
Blake Miguez: Season 1, 7th place
Brian Zins: Season 2, 2nd place
Chee Kwan: Season 4, 6th place
Chris Cerino: Season 1, 2nd place
Gabby Franco: Season 4, 8th place
Gary Quesenberry: Season 3, 3rd place
Greg Littlejohn: Season 4, 2nd place
Jamie Franks: Season 2, 5th place
Joe Serafini: Season 2, 4th place
Kelly Bachand: Season 1, 5th place
Kyle Sumpter: Season 4, 5th place
Pete Palma: Season 1, 4th place
Phil Morden: Season 3, 6th place
William Bethards: Season 4, 7th place
Season 1 has a total of 5 shooters, Season 2 has 3, Season 3 has 3, and Season 4 has 5. Gabby Franco has the distinction of being the only woman to ever make it to the Green Team, and is the only woman in this season of Top Shot. There are some big names notably absent from this list as well, just as JJ Racaza from Season 1, or Mike Hughes from Season 3. JJ declined to appear so he could be there when his first child was born, so that's a worthy decision on his part.
If I had to pick a winner out of the group, my money would be on Chris Cerino or Brian Zins. They're both tough as nails and have a lot of experience winning things. The only other 2nd place winner on the show, Greg Littlejohn doesn't have what it takes under pressure, and he'll fold early in the running. I'll also be disappointed if Season 1 doesn't administer a bit of a beatdown to the rest of the seasons, since let's be honest – season 1 had the most talent.
I'm looking forward to this season of Top Shot, and seeing how the All-Stars battle it out!