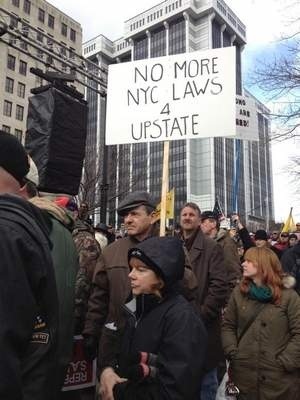 Today I am returning from a trip to The Big Apple. It's an amazing city; often called a melting pot. In this city, everything is at one's finger tips; Entertainment, food, culture, all available any time, day or night. Life is pretty good when can get Thai food delivered at four am, mass transit is always steps away, and pedicures are available for $15 a pop. People come to New York from all over the world and they think, "This is America!" Therefore, it's not surprising that New Yorkers also believe that they've been exposed to just about everything this country (and the world) has to offer.
But the rest of us know, New Yorker's are on their own little island (heh heh!). They are literally cut off from what most of us consider America. So, to hear that the mayor of the city of New York is planning a nation-wide, $12 million, ad campaign to convince the rest of the country of the need for his version of gun-control, seems, among other things: wasteful, narrow-minded and elitist.
New York City is, a ton of people living in a confined space. It is, small closets and mass transit, high prices and high intensity. There is almost always many people at close range. The rule of knowing one's target and what is beyond it, would be virtually impossible to follow on these streets. Also, there is the potential for witnesses to a crime at almost every turn. Most New Yorkers have learned a version of situational awareness and they practice it, every day. As someone who was born and raise in the middle of Manhattan, I can say, if you act smart, it's a very safe place.
But this is not how most people in America live. For most Americans, neighbors are not on the other side of the wall, they are outside and down the street. For most people, fellow commuters are not inches away, they are in a different vehicle. So how can Mayor Bloomberg, (or any politician) recommend laws that can be applied universally?