You've been seeing pictures on the blog and our Facebook page for a bit now of a Colt SP1 that I acquired. I hadn't really been in the market for an AR, but then this showed up in our shop from an estate sale.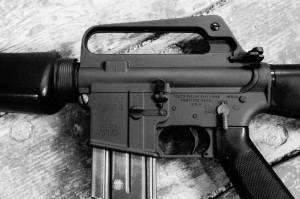 There's something about an A1 rifle that just appeals to me, but I've had A1s come through before and let them go. But this Colt…it was special. First there's the serial number, which is quite low. I had it validated with Colt, and the date of manufacture is 1967. Second, there's the furniture, which is not only all correct right down to the 3 prong flash hider, but it's also in amazing condition. Third, and most importantly, is the overall condition of the gun. It's had one owner since it was purchased, the man whose estate sold it to us. The rifle has been shot a little bit, but never to extremes. It's always been cared for, and shows the sort of attention to detail that you get on guns where people actually care about them.
That was what did it for me. I couldn't let this rifle get sold on the internet during the midst of the black rifle craze. It would have been bought by some kid who would have pulled off the Barbie handguards, dumped the stock for a Magpul stock, and ditched the 3-prong flash hider for a Battlecomp. Basically, he would have ruined it. That'd be like taking '67 Charger and putting neon ground effect lights on it.
So I bought it. I've even figured out what I'm going to do with it; despite the fact that it's pushing 50 years old. I'm going to shoot it. I'm going to take a carbine class with it, and I'll run it in Iron Sight divisions at multi-gun matches. Because, like a '67 Charger, it may need a little more TLC than a modern car/M4gery, but that doesn't make it any less road worthy. That doesn't mean this little rifle, manufactured 15 years before I was born, doesn't want to be taken out on the road and do what it was created to do. So I'm going to grant it that wish, and my rifle and I are going to do some shooting. And in honor of the old man who cared for this rifle, I'm going to keep it in the original condition…and I'm even going to clean it.