And mechanical objects don't provide safety. In yesterday's post about how certain popular models of electronic gunsafes can be easily defeated the concept of safety as a mindset was touched on but not elaborated fully. Passwords and keys don't make things secure, what actually secures a box is the steel, the hinges, and the bolts. The password and the key are just how we interface with the bolts.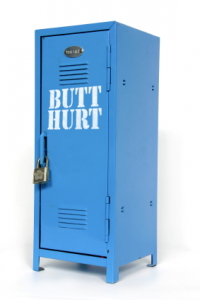 But that's still just talking about physical security, and not the concept of safety as a mindset. Safety as a mindset starts with teaching children about gun safety from an early age, and understanding what that really means and how "gun safety" can applied to small children.
When you're talking about securing your guns, there are two threats to your firearm's security. People with malicious intent such as thieves, and people with inquisitive intent, such as children. The quick access safes that we looked at yesterday are pretty obviously not suited for defending against malicious intent, and I'd seriously question their ability to prevent inquisitive access as well. Preventing access by thieves and criminal scumbags is another post entirely, which contains the words "vault doors" and "automated machine pistol turrets." Today we want to specifically look at access via curiosity and how to prevent that.
Nobody with kids, nieces, or nephews will argue with the statement that kids are curious. Small children are like tiny little velociraptors minus the claws, they're always learning and looking for ways to get into stuff. Especially if the stuff in question is a place or things they're explicitly not allowed to get into.
The other problem is that children of certain ages posses the manual dexterity to get into all sorts of trouble but lack the necessary mental faculties to process "don't touch, call an adult." Obviously, for older children education is your first line of defense. But what about younger children? How do we deal with the concept of firearms safety with children that don't posses the processor speed to understand gun safety warnings?
Well, that's where a certain amount of physical security does come in to play. A sturdy, locked door is far better security than cheap Chinese gun box with an electronic lock will ever be. It's traditional and old school, but it also works. For quicker accessed handgun, I'd rather have a Pelican 1095 case with a good quality padlock (and the key kept on my person) kept in a drawer. Again, if the goal is to prevent curious children from accessing, that would be a reasonable solution.
The best sort of security for a home defense handgun though is to keep it on your body. It's awfully hard for a kid to get access to a gun that you're in physical possession of at all time, and even harder for them to get access to a gun that's locked up in a proper gun safe or secure room when you're not at home.
For children old enough to understand, get an early start on education. We learned growing up from a very early age that Dad's guns were strictly off limits, and when we got a little older we were all given gun safety training. Until your kids can understand that training though, take appropriate precautions to prevent accidental access.