Sioux Falls, SD – Gun Nuts Media, a leading source for online shooting sports news and info is proud to announce an addition to their team of writers. Gun Nuts is joined by Gabby Marcuus of ArmedCandy, bringing another unique point of view on the shooting sports world to Gun Nuts Media.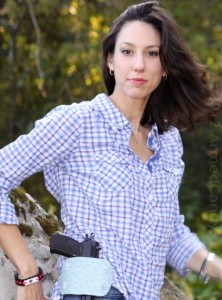 Gabby joins the team with a background in both writing and retail, having worked at gun range as well as publishing ArmedCandy for almost 2 years. "I'm thrilled to have Gabby on board as another paid writer here at Gun Nuts" said Caleb Giddings, President of Gun Nuts Media. "Gabby really impressed me at SHOT Show with her existing knowledge and her drive to grow in the industry. She even likes CZs, which means she has pretty good taste in guns as well."
Gabby's columns will be published Monday and Wednesday as part of the regular Gun Nuts publishing schedule. To contact her directly for product reviews and content, email her at [email protected].
About Gun Nuts Media – Gun Nuts Media was founded in 2006 by Caleb Giddings as nothing more than a place on the internet to share his opinions. Since then it has grown into one of the largest and most respected resources for shooting sports news and info online, with more than 1 million page views per month. For advertising info, contact our team at [email protected].