Cerberus Capital announced today via press release that they would be selling off the Freedom Group family of companies, which include Bushmaster, Remington, Advanced Armament Corporation, ParaUSA, and several others.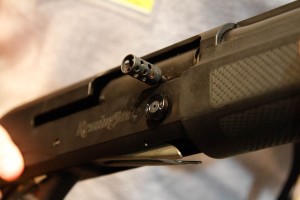 Cerberus had come under pressure from one of their largest investors, the California State Teachers' Retirement System to sell the Freedom Group of companies. In a statement Tuesday, Cerberus Capital said that "It is not our role to take positions, or attempt to shape or influence the gun control policy debate."
The question now becomes what will be done with the Freedom Group of companies? Most private equity group sales happen from one PE group to another, and right now it appears that no one would be willing to take a risk on the Freedom Group in toto. Most likely, the various companies will be split out and sold piecemeal at a loss as Cerberus tries to dump an asset it sees as undesirable.
Remington, one of the largest of the companies in the Freedom Group is currently poised to win the Army's M4 contract. If the Freedom Group companies are split off and sold, an investor group with some guts would stand to make quite the tidy profit off purchasing Remington at a loss from Cerberus and shepherding it through the final phase of the Army contract.
Less certain are the futures of some of the smaller companies in Freedom Group, two that stand out as interesting are AAC and ParaUSA. Advanced Armament Corporation (AAC) was always in the fairly unique position of primarily manufacturing NFA items and being relatively successful at mainstreaming said NFA items. In the wake of the Sandy Hook shootings and the possibility of being split off from Freedom Group, AAC could return to its roots as an innovative and dynamic smaller player in the market.
ParaUSA was acquired by the Freedom Group…and then a whole lot of nothing happened. The Para brand has languished ever since Para completed their move to North Carolina, as they've struggled to produce a significant quantity of guns. It's a brand that had potential that was never really realized under the Freedom Group banner, and it will be interesting to see what happens to Para in the upcoming weeks.
The biggest piece of fallout that could affect firearms consumers however is that we'll likely not be seeing innovative collaborative concepts like the .300 Blackout again any time soon. The size of the Freedom Group allowed .300 BLK to be an instant success, as Remington produced ammo, AAC made suppressors, and multiple companies with the Freedom Group made guns chambered for the new cartridge. If Freedom Group does go away, it's unlikely that we'll see that kind of cross-brand effort again for some time.