My favorite meeting coming out of NASGW was with the great team at Colt's Manufacturing. I've talked about some the cool new products coming up from Colt, like the Colt CCG and the rifles from Colt Competition, so I'm pretty excited to tell you that in 2013 I'll be shooting Colt products exclusively in competition. Let's start with a look at the handguns.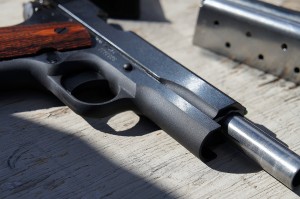 After shooting them at Gunsite, you shouldn't be surprised that I'll be spending all of 2013 with the Colt 1911 CCG. For my purposes, it has all the stuff I want, and none of the stuff I don't. It's actually a very simple gun – a Series 80 Colt, making it technically part of the Colt 1991 family that's been upgraded with an extended thumb safety, Novak blacked out wide notch rear sight, and a fiber optic front sight. Like I said in my preview, it has all the stuff I want in a 1911 except a magazine well for competition shooting or a laser for concealed carry. The plan for Colt CCG is simple: I'm getting two of them from the factory, and I'm going to set one up for competition, and the other for carry. The competition gun will stay largely stock, I'll be adding a magwell and maybe a flat trigger; the carry gun is going to get a set of Crimson Trace laser grips and then be basically left alone.
The plan for the pistols is simple: shoot them a lot. Record everything. Shoot them some more. So I hope you like 1911s, because 2013 is going to be full of them. While the major match schedule for 2013 is still kind of loose, I'd like to shoot the Colts at these matches:
Single Stack Nationals
L10 Nationals
Bianchi Cup
Steel Challenge
IDPA Nationals
Pro-Am
I'd like to get at least one USPSA area match in there as well, since I haven't shot an Area since 2010 when I shot Area 5. There will also be the usual collection of state matches thrown in for good measure, but the list above are the "big ones". I recognize there are some unique challenges with shooting a .45 ACP at Bianchi Cup, but I'm committed to a year with one gun, and honestly really excited about it.
As if that wasn't enough awesome for 2013, Colt Competition will also be sending a rifle my way. At Gunsite I spent a bunch of trigger time behind their 16 inch .308 platform, and it was fantastic. After chatting with the team out there, they're going to fit a new barrel to the same gun I shot at Gunsite and then send it my way. You can expect to see me rock that sucker at various 3-gun events next year as I start to get involved with the hottest game in the shooting sports chase down Heavy Metal division. Which of course means I'm going to need a shotgun; too bad Colt doesn't make a 12 gauge pump gun.
Also on board to support the project are Leupold optics, who provided one of their Mark AR scopes, Warne Scope mounts, and Federal Premium ammo. The Colt pistols should be showing up in the next couple of weeks, so I'll be able to get an early jump on the 2013 season and start doing dry fire work with them during the winter off season. The rifle will be here some time after that, which will also give me time to source a good 3-gun shotgun. The problem with the shotgun is that the rules for Heavy Metal Optics aren't consistent across the board – most matches allow you to have a semi-auto in HM Optics, but some require a pump. Of course, I could just shoot HM Irons, which would guarantee using a pump gun.
But the shotgun isn't the important part, because for the first time since I started shooting, I'm going to be shooting a single platform for an entire year. That's something that I'm genuinely excited about. No switching guns in between matches, shooting a DA/SA for one match than going to a striker fired gun. Just one gun, one trigger pull, and one manual of arms for the handgun.
As far as the site goes, we'll still be doing gun reviews, and I'll still be writing reviews for other products in magazines, but you won't see me taking guns out and doing 2000 round tests of them anymore right in the middle of my competition season. I'm also bringing on more writers for 2013 to handle those kinds of tasks, so the voice on the blog will continue to grow as well. 2013 is going to be a pretty awesome year, and we're still 2 months away!