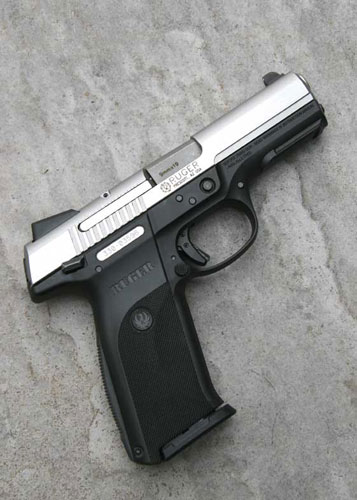 In the world of "great news", I just found out that Novak is offering fixed sights for the Ruger SR9/40 series of pistols.  The Novak Ruger SR9 sights are available directly from Novak, in fact you can ship your slide to Novak and they'll install the sights for you.  If you're thinking about using the SR9 or SR40 in competition, switching over to the Novak sights might be just what the doctor ordered for the race ready Ruger.
While the factory adjustable sights on the Ruger SR series of pistols are actually pretty good, for IDPA and competition they could be improved, and adding a blacked out Novak rear might be a step in the right direction.  Improving the sights on a pistol is often the first step towards making a pistol truly suited for competition, and since we're going to be running the SR40 in lots of different matches, the Novak sights are going to be something we investigate.
Speaking of the SR40, the trial pistols are in.  Assuming I get them in hand before I leave for Gunsite on Sunday, I'll be able to give you some initial impressions of the gun.  Otherwise, you'll just have to wait a couple of weeks before you see how it holds up under some heavy round counts.
However, if you're already and SR9/c owner and you're looking for different sights for the gun, check out the Novak sights.  I've had Novaks on several guns, and they're excellent sights, I recommend them without hesitation to anyone looking for a solid, durable fixed sight.