In IDPA, the rules stipulate that all reloads must started and completed "behind cover".  The problem is that IDPA doesn't define what cover actually is.  This leads to all sorts of shenanigans at matches, and is the reason for my policy of asking the SO on every single stage I shoot "what are we defining as cover here".  This is the most effective way to avoid procedural penalties, as ultimately the Safety Officer is the one that determines what is and isn't cover.  There are three different schools of thought on what "is" cover in IDPA, and they go like this:
Cover is whenever you're not exposed to un-engaged targets.  This means that if you have an array of three targets in front of you but you've shot them all and you're not exposed to the remaining targets on the stage, you're "behind cover".
Cover is whenever you're not exposed to any targets, regardless of your distance to the actual barrier object.
Cover is only when you are directly behind the barrier object that is providing your "cover".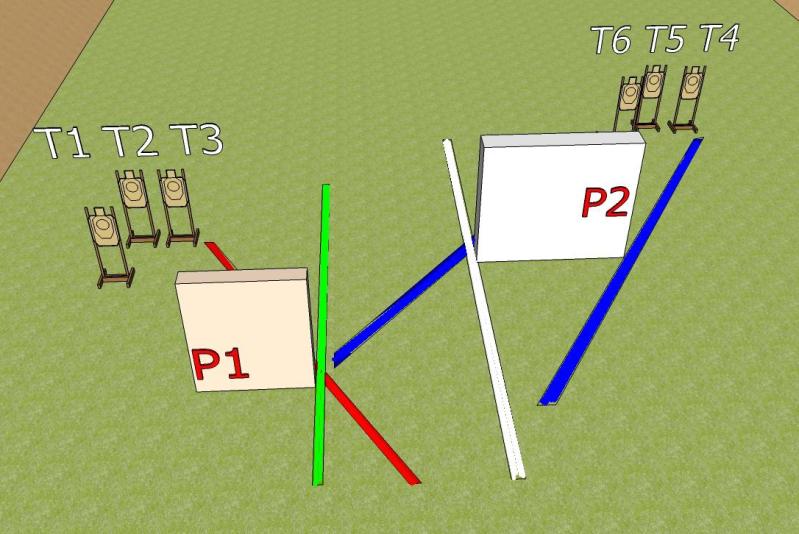 The above diagram, borrowed from a poster at the official IDPA Forum perfectly illustrates all three definitions of "cover".  Because IDPA allows you to reload on the move when behind cover (clearly stated in the rulebook) the definition of cover becomes important for shooters looking to save time.  In definition 1 of cover (not exposed to un-engaged targets) you can reload at any point on the graph after you've shot T1-T3.    Cover definition 2 would say that you could only reload when you're between the blue lines on the graph, as then you're behind cover from the remaining targets.  Finally, cover definition 3 would say that you have to remain at P1 to reload or cannot reload until you're on top of the wall at P2.
The problem that we have is that I have seen all three definitions of cover used at sanctioned, major matches.  The problem that we run in to is that even in the IDPA rulebook, cover only subjectively defined with regards to your distance from the barrier object.  In my opinion, it makes sense that you're "behind cover" as long as you're not exposed to any threat targets, regardless of how far you are from the visual barrier object.  Other Safety Officers, including one of my best friends in the sport, disagree.
So I'm interested to hear from my IDPA guys out there – what do you think cover is?  Obviously, I'm a fan of definition 1.  I think it makes the most sense within the confines of the rules of the game, but I'm willing to accept definition 2 as well.  If I were running that course of fire with a wheelgun, as soon as I finished shooting the first array of targets I'd be reloading while moving to the next position, since I'm not exposed to any threat targets.  What would you do?  Also, if I shot it with a semi-auto there is a chance, albeit a small one, that I'd do a RWR while moving instead of having to top off in the middle of a string.  I'd like to hear how you would shoot it, and more importantly where you think it's legal to reload.