A while back in Front Sight, the official USPSA magazine, Phil Strader had an article advocating for the exclusive use of the IPSC Classic target over the currently popular "metric" target.  The discussion was picked up on the Brian Enos forum with varying opinions.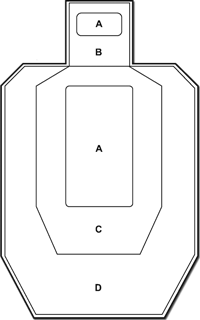 For a little background, IPSC (and USPSA) originally used what we now know as the "metric" target – the familiar humanoid silhouette with the scoring regions detailed as you see in the picture to the right.  What's interesting is that the target now known as the "Classic" target didn't come in to existence until after the metric target had been the standard target for quite some time.
Since then, the Classic target has been adopted for full time use by IPSC; which means all matches sanctioned under IPSC rules (which are different from USPSA) use the Classic target.  Essentially, if you shoot an IPSC match anywhere in the many countries that the sport exists, you will not see the metric target, but instead you'll see this target.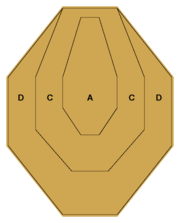 Meet the Classic target.  Sharp eyed readers will immediately see the difference between the Classic and metric targets – the Classic target lacks the upper head box that you see on the metric target.  It also eliminates the "B" zone entirely, leaving the scoring region on the target at A, C, and D.  In his own words, here's Phil's argument for using the Classic target exclusively:
I'll never give up on my OPINION that using the Classic Targets would help better promote the sport to outsiders looking in. To be clear, outsiders like pro-gun interested hobby shooters, pro-gun potential sponsors, pro-gun potential media, etc. I'm not stupid enough to think that any anti-gun group would ever accept our sport as anything other than a bunch of civilian militia training ourselves how to kill other people…regardless of whether we're shooting sweet fuzzy humanoid targets with big bunny eyes or swinging plates, square glass, or 12″ exploding circles (Top Shot shout-out).
I have spent a lot of time thinking this over (the Enos thread started back in July) and I have to agree with Phil.  Hear me out, because I know that not everyone is going to agree with me on this one.  I think using the head-box targets, which are obviously human-looking targets can deter potential advertisers and sponsors that would support the shooting sports such as bullseye or sporting clays but may be a little turned off by the "combat" nature of our sport.  That being said, I hate feeling like we're making a concession to political correctness.  But you can view this without that particular "PC" element.  If you look at it purely from a marketing/media point of view, then what you have is a target that hinders media exposure (the metric) and a target that doesn't (the classic).  No matter which way you slice it, the classic target is going to be me more friendly to more people, and that means more money and more exposure.  If the end goal is to get USPSA covered on ESPN (which I would love to see even though I know it won't ever happen) then the classic target is an obvious choice.
But like I said, I also know that not everyone is going to agree with me here.  My personal opinion is that switching to the Classic target and doing away with the metric target would be in the best interests of USPSA and the end goal of growing and expanding the sport.  For people that want to keep the "practical" element of competition and enjoy the more traditional silhouette targets, there is always IDPA – which I love and would continue to shoot even if USPSA went to an all Classic target format.
For more on Phil Strader, check out his Facebook page and personal website, Straighter Solutions.