Stuff you'll be seeing in the next few weeks on Gun Nuts:

The Ruger SR-556 is coming, and we're going to shoot it in a bunch of 3-Gun matches, some tactical classes, and wherever else we can.  This is going to be an awesome long term review, much like the SR9c that we're running in the Quest for Master Class at Downrange.TV.
Also coming is the Lucid HD7 Red Dot optic.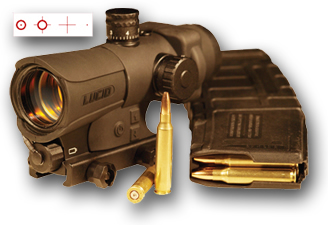 I have seen reviews for the Lucid on a few of the popular gun forums, but it really hasn't been subjected to any kind of serious round count that I've been able to determine.  I got in touch with the owner of Lucid when I found out it runs on AAA batteries, and we're getting a unit out here at Gun Nuts HQ to run in the aforementioned 3-gun and tactical carbine classes.  That means lots of rounds through a hot gun – we'll definitely find out what this thing can do!
Obviously, the Ruger SR40 is also going to under review as well as used for the Quest for Master Class as we continue our trek towards IDPA 5-Gun Master.  After that, look for content about improving your skill at USPSA, as we'll be shooting different USPSA classifiers and trying to move up the ladder there as well.
We'll also have a look at products from Surefire, Crimson Trace, Magpul, XS Sights, Colt Firearms, Galco, and plenty of other great companies.  Additionally, and most interestingly, Gun Nuts has now reached a point where we have expanded and hired our first true employee, someone that you'll be seeing on this site very soon in the future, but more on that later.
Needless to say, the future is looking good here at Gun Nuts, and I'm excited to have you guys along for the ride.  If there's a product or piece of gear you'd like to see reviewed, send me an email at [email protected] and we'll see what we can do!