Thanks to a reader, I've discovered Galloway Precision.  A firearms accessory company that specializes in making competition accesories for the Ruger SR family of firearms.  In addition to a magazine well, which will be perfect for my plans to shoot the SR40 in Limited-10 and ESP, they also manufacture magazine extensions to enhance the already significant magazine capacity of the SR9/40 series.  In the end, you can build yourself a pretty serious looking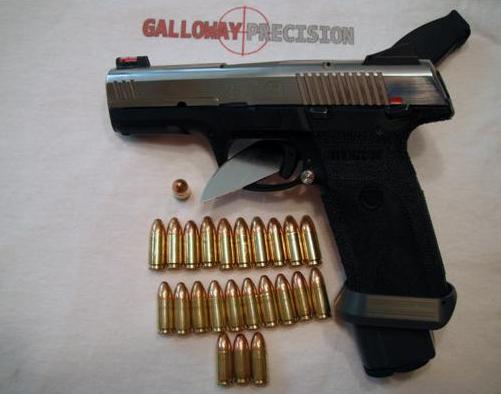 SR9 or SR40 pistol for competition using the parts that they have in stock.
Obviously, I'm extremely interested in the magazine well.  While it does remove the gun from Production and SSP in terms of legality, the magazine well will greatly enhance reloads when shooting Limited-10 or ESP, and even the 1 or 2 reloads necessary if I shoot Limited.  A great big Gun Nuts Thank You to reader Jeff who pointed me to Galloway Precision, and hopefully we'll be featuring some of their products here on Gun Nuts in the next couple of weeks.