So you've settled on a 1911 from our look at Entry-Level 1911s yesterday.  We'll say for the sake of giggles that you picked the one I would have picked, the STI.  Now it's time to feed your 1911, and believe me you have a plethora of choices out there in 1911 magazines.  From the cheapest gun show specials that may or may not work all the way up to the top tier of pistol magazines, the magazines will affect the reliability of your pistol in a significant fashion.  In general terms, the first thing I would recommend is avoid gun show "GI" magazines.  Unless of course you like practicing failure drills, that is.
When it comes to quality magazines for your 1911, here are my favorite choices though.  I honestly like to keep it simple, as there are a world of options out there, however I've had positive experiences with all three of these brands of magazines.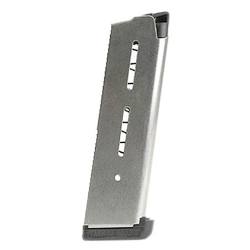 Wilson Combat 47D – this is one of the best regarded magazines in the world of 1911s.  I know lots of serious shooters that absolutely swear by these magazines and their reliability.  I have used Wilsons in a couple of different 1911s with zero issues whatsoever, and would recommend them without reservation to anyone looking to run their 1911 as efficiently as possible.
Chip McCormick – This are probably my favorite mags, both the PowerMags and the Shooting Star mags.  For my money, they're the best combination of reliability and price so that I can afford to buy a box or so of them and not worry about one of them getting wrecked.  I can't say that so much about the Wilson magazine, which usually costs 5-10 bucks more than the Chip McCormick magazines.
With that being said though, I have had some readers tell me about reliability issues with the Shooting Star magazines.  So the caveat "test your friggin' mags" applies here.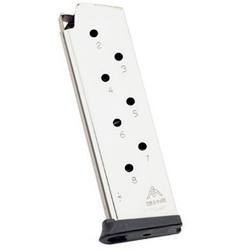 Last but not least is the Mec-Gar 8 round magazine.  I have the least amount of experience with this magazine, however what limited experience I have had has been positive.  I've only shot these again in very limited numbers, so take that with a grain of salt.  Plus, the Mec-Gar has the same retail price as the Chip McCormick, so honestly?  I'd buy the Chip magazines over these.
You may have noticed though that with all of these magazines I've had the caveat that you absolutely must test your gun with them.  I stand by that, because each individual 1911 from a different maker may prefer different magazines.  Once you find a brand that works in your gun, stick with it and buy lots and lots of them.
If you search the archives here at Gun Nuts, you'll find we've hit on the topic of 1911 magazines before.  The best way I can explain is that Glocks are like Big Macs – you can buy a Big Mac from any McDonalds in the nation and it's guaranteed to be the same no matter where you go.  Same for a Glock.  A 1911 on the other hand is more like a gourmet cheeseburger, which means it's going to vary from chef to chef…or manufacturer to manufacturer.  That's why it's imperative to test your 1911 with a variety of magazines to find out which one works the best with your gun.