An interesting discussion cropped up on my Facebook page this weekend about the merits of hot vs. cold ranges; I personally am of two minds on this issue as I can see the merits of both arguments.  The key arguments behind advocates of hot and cold ranges are summed up thus:
Hot: A holstered gun is a safe gun, who cares if it has ammo in it just don't touch it when you're not on the line.
Cold: Manually unloading each shooter guarantees there are no loaded guns behind the line in someone's hands.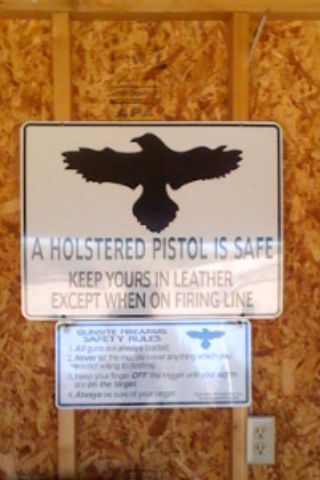 Both have merit, and both in my opinion have their place.  For example, in a Gunsite class, it would simply take too much time to have each shooter unload and show clear every time they came off the line.  It makes much more sense for them to top off their gun and holster up with a hot gun.  The "hot range" theory operates off two key principles – 1) it assumes that all shooters in attendance are actually going to leave their guns in the holster, and 2) that everyone has a sufficient level of competence with admin gun handling to keep their guns topped off in between strings of fire.
On the flip side, you have the cold range school of thought.  Having been around a lot of matches and seen a lot of novice shooters, I am in favor of cold ranges for matches.  As a certified IDPA Safety Officer and competitor, I like the peace of mind knowing that no one is handling a loaded gun behind my back while I'm on the line.  The reason I like cold ranges for matches is because matches, unlike classes such as Aim Fast, Hit Fast or Gunsite often attract a wide variety of skill levels and competencies which means that not every shooter in attendance is going to be as well versed in gunhandling as the advanced shooters.  So in that environment of unverified competency, it makes sense for the safety officers to manually inspect everyone's guns.
Personally, I'd love to live in a world where I never had to worry about whether a range was hot or cold – but I've also been muzzled quite a few times at indoor ranges and outdoor ranges with "empty" and loaded guns to know that there is a time and place for both hot ranges and cold ranges.