Each year, the Bianchi Cup is held in Columbia, MO and represents the National Championship for NRA Action Pistol shooting.  However, there is one match that supersedes Bianchi Cup on the Action Pistol Calendar, and that's the World Action Pistol Championships, held this year in Australia.  NRA Action Pistol has a very large following in Australia and New Zealand, a fact I discovered in '09 at the Bianchi Cup when I had the chance to meet more than a few participants from down under that made the trek to Missouri to shoot our National Championship.  As usual, we happily reciprocated by sending the best action pistol shooters in the United States to Australia this year to see how we'd do at their match.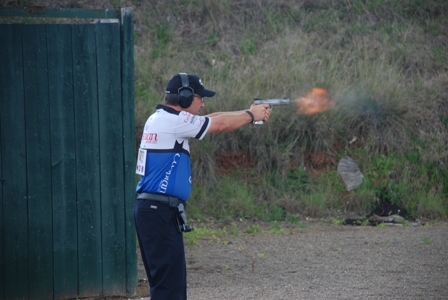 Here are the final results for the 2010 World Action Shooting Championships, broken down by division.
Open Division
Doug Koenig
Carl Bernosky
Bruce Piatt
Ladies' Division
Anita Maciewicz
Vera Koo
Jodi Lyall
Note, my friend and multi-time US Champion Julie Golob finished 4th in the women's division.  While the world championships don't enjoy the participation in Metallic and Production that you see at the US events, hopefully the bi-annual World Championships will continue to pick up steam.  That's one of those events that is on my "Must go someday" list; but a trip to Australia/New Zealand would be a long way off in my future.
Other news from the match – Team S&W's Molly Smith, best known for rocking Steel Challenge with her S&W 627 shot a 1523, which is higher than the score I shot at my first Bianchi Cup.  There is something rather humbling about losing to a 14 year old girl.
Congratulations to everyone that shot the World Championships, and hopefully I'll be able to join you in 2012!