While mostly irrelevant in the age of modern pistol shooting, occasionally you will see the debate pop up about modern isosceles vs. the Weaver stance.  In it you'll get doctrinal adherents proclaiming the superiority of one particular stance over another; and I've even fallen prey to that debate on a couple of occasions myself.  These days though my opinion on stance has sort of changed, and a lot of that has to do with having shot a lot of rounds in action pistol shooting.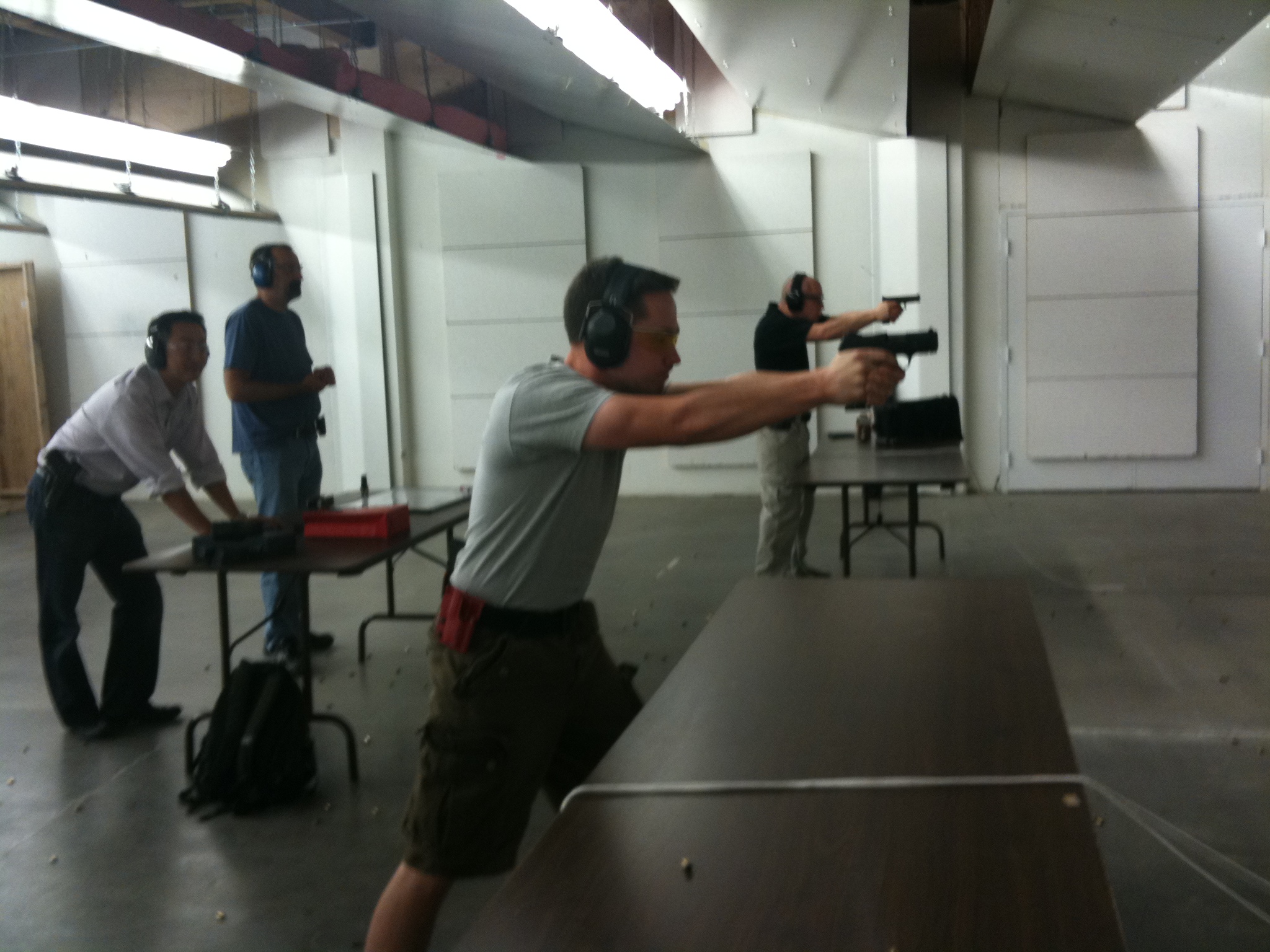 In the image, I'm not using what would be defined as any traditional stance.  My upper body is square to the target and my arms are probably most like an isosceles stance, but if you're looking at textbooks of "how to stand with a gun" you're not going to find that in there.
The guiding star of action shooting is to get accurate hits as fast as you can on target – you'll shoot on the move, around corners, through tough technical positions and generally if you're shooting a USPSA match and find that you've taken a perfect stance, you're probably going too slow.  Similarly, while certain body mechanics don't change, your lower body position can be adapted to the game that you're shooting.  When I'm shooting steel like I am in the above picture, I like to take a more aggressive approach – leaning in a bit harder on the gun.  I have seen other people use this kind of aggressive stance, so I figured "hey, it's worth a shot".  It has actually worked pretty well; my times clearing a plate rack have dropped and I've picked up time on Steel Challenge as well.
What I'm not saying is to go out and shoot from a poor stance.  If you can't get fast, accurate hits while standing in a Modern Iso stance, you're not going to be able to get fast, accurate hits from the improvised stance required by action shooting.  The reason why you want to master the fundamentals is that while your lower body may be moving or kneeling, your upper body mechanics don't really change a whole lot.  Think of the top half as the turret on a tank – whether you're taking an aggressive stance for Steel Challenge, a stable fundamental stance for Bianchi Cup, or moving flat out at a USPSA match your upper body position isn't going to change.  But once you get that down, then you can start experimenting with tweaking the positions.   Every person is different with different mechanics; what works well for me may not be the best solution for you.  That's the other thing to remember – if you try something new with your stance and it just doesn't work, there's no reason to keep doing it if you're getting fast and accurate hits on target.  Don't change things for the sake of change – but at the same time be open to new techniques.  It's a poor student that thinks he knows everything.  For example, if you had asked me a year ago about the body position I have above, I'd have said you were on crack.  But I saw some people doing it, and people that are really good at shooting used it, so I figured "hey I'll give this a try."  It works for me, but it may not work for you.  Don't change for the sake of change, but don't resist change because you've always done something a certain way.