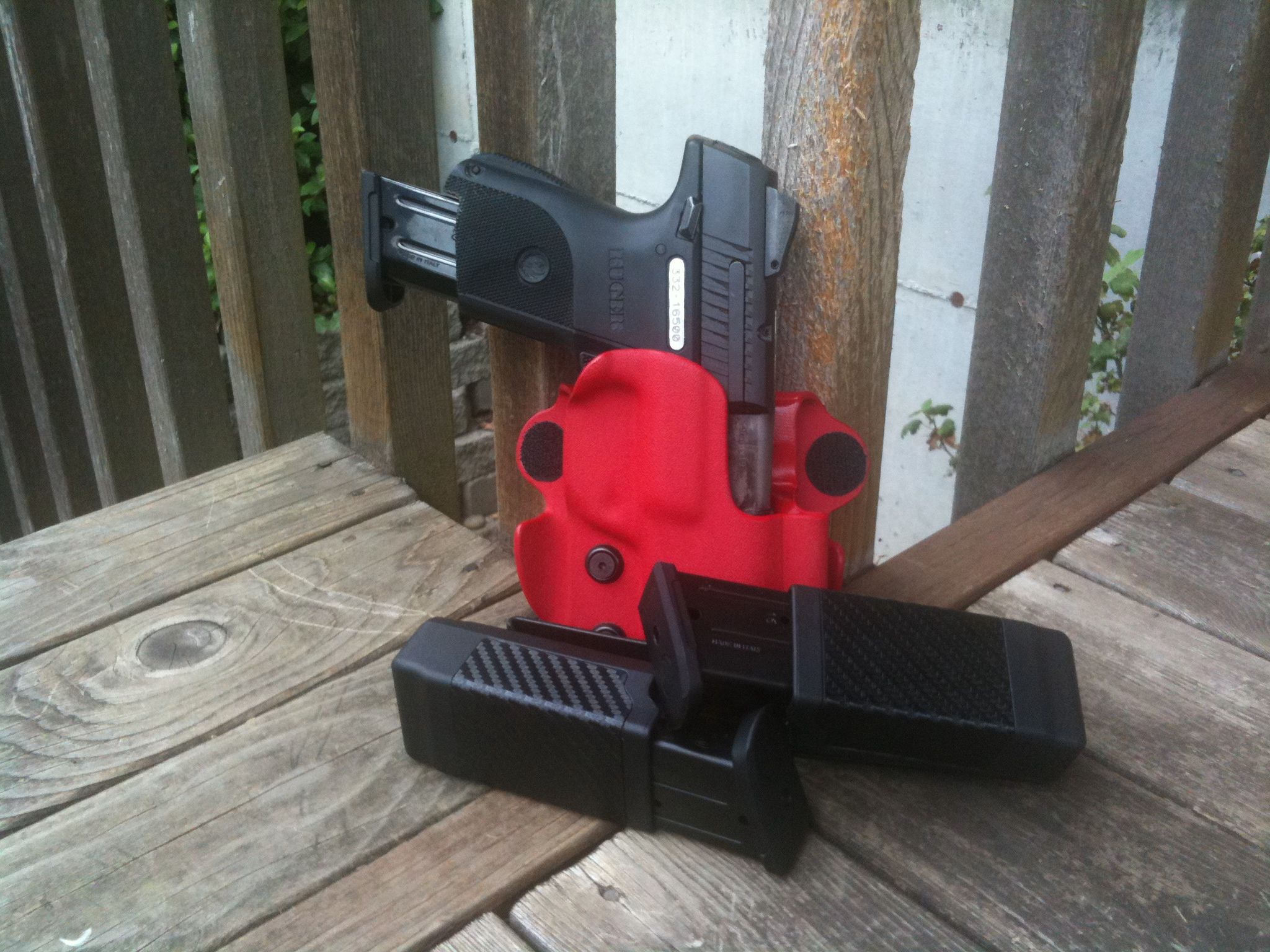 I've been running the Ruger SR9c in competition and as my carry gun for almost two months now, and I've fired just short of 2000 rounds through the gun.  In that time, I've had the opportunity to encounter a lot of the myths about sub-compact guns that you'll run in to, as well as some of the performance shortcomings that can be ameliorated with training and practice.
One of the big myths is that a sub-compact is less accurate than a fullsize gun.  That's just plain old nonsense.  Sub compact guns are often just as mechanically accurate as their full-sized counterparts, what makes them "less" accurate is that a shorter sight radius and increased recoil often make them more difficult for shooters to master.  Of course, the "increased" recoil is another semi-myth.  I've shot the full-size SR9, and I've shot the compact SR9c.  The SR9c uses a different recoil spring system than the fullsize gun – a dual captive spring system goes a long way towards soaking up felt recoil.  I have probably said this 100 times, but the SR9c is the softest shooting sub-compact gun I've ever played with.  I've heard similar reports about the Gen4 Glock 19s, which also use Glock's new dual spring set up.  There's no reason in this modern day and age for a sub-compact 9mm to dish out punishing recoil to the shooter.
That's important, because there is one thing that's true about sub-compact guns – it takes more practice with a smaller gun to build up the same skill level that is built in less rounds with a fullsize gun.  The abbreviated grip and shorter sight radius have a lot to do with this.  A smaller grip can prevent you from grabbing the gun correctly straight out of the holster, which means the sights won't be lined up quite right, which adds time, etc – I has having this problem the other day on my disastrous classifier run.  However, one area that the subcompact does help make up for that is in how fast it clears the holster.  In the picture above, my SR9c is riding in its Comp-Tac Speed Paddle, and IDPA legal holster.  Because I only have to raise the gun 2 inches to clear the barrel of the holster, it's wickedly fast on the draw.  I've managed to hit a 0.87 draw to a -0 hit in practice with this, and in actual competition my first shots are usually 0.10-0.15 seconds faster with this gun, assuming I grip it correctly and get the sights lined up.
One thing to bear in mind when you're carrying a compact is the muzzle velocity you're going to lose out of that shorter barrel.  147 grain CCI Blazer ammo, which is listed at the factory as 950 FPS muzzle velocity only chronographed at 870 FPS from this gun.  With an gun where the barrel length is less than 4 inches, you'll need to weight that loss in velocity into account when you're selecting carry ammo.
Ultimately though, if there's anything that lots of drills have taught me the last couple of months is that you can shoot a sub-compact just as well as you can shoot a fullsize gun – it just takes more practice.  I'd encourage you to shoot IDPA or USPSA matches with your carry guns, whether it's a Glock 26 or a S&W M&P Compact.  The benefit of employing your defensive firearm under simulated stress is incredible, and with practice you'll be just as competitive.  Don't believe me?  I finished 12th at a major USPSA match shooting the Ruger SR9c against full on race guns and race gear, and with the handicap of scoring minor.  So grab your compact guns and get out to a match!