Story and full details at the Firearm Blog.  The CZ75 Czechmate is the full on USPSA Open Division race gun built on the CZ-75 platform.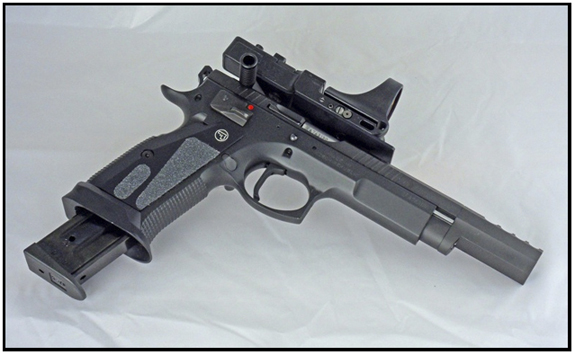 This gun actually comes with the goodies that you see here, a C-More sight, the big stick magazine, ambi-slide racker, the comp that is actually well fitted to the gun and barrel plus several more magazines.
Now, I'm not an "Open" guy.  I'm not even really a big fan of Limited, but that's neither here nor there.  One of the problems I have with Open is the high cost of getting in, because you've got to buy the gun for 2 or 3 grand, then you've got to buy magazines that cost $100 each, etc etc.  That's what I like about this CZ, is that you get everything you need except for a belt, holster, and mag pouches right out the door and you're ready to go compete in Open Division.  If that's the flavor of USPSA that you're interested in, then this gun might be worth a look from you.