There was one booth at the NRA Annual Meetings that did a better of getting the attention of passers by than any other; the Federal ammo booth.  It wasn't through the use of loud video, or booth babes, or any other "traditional" gimmick – no, it was simply this "whoosh-thunk" noise you could hear from 10 yards away.  I had to see what it was, so with wife in tow we headed over to see some kind of maul that was smashing bullets.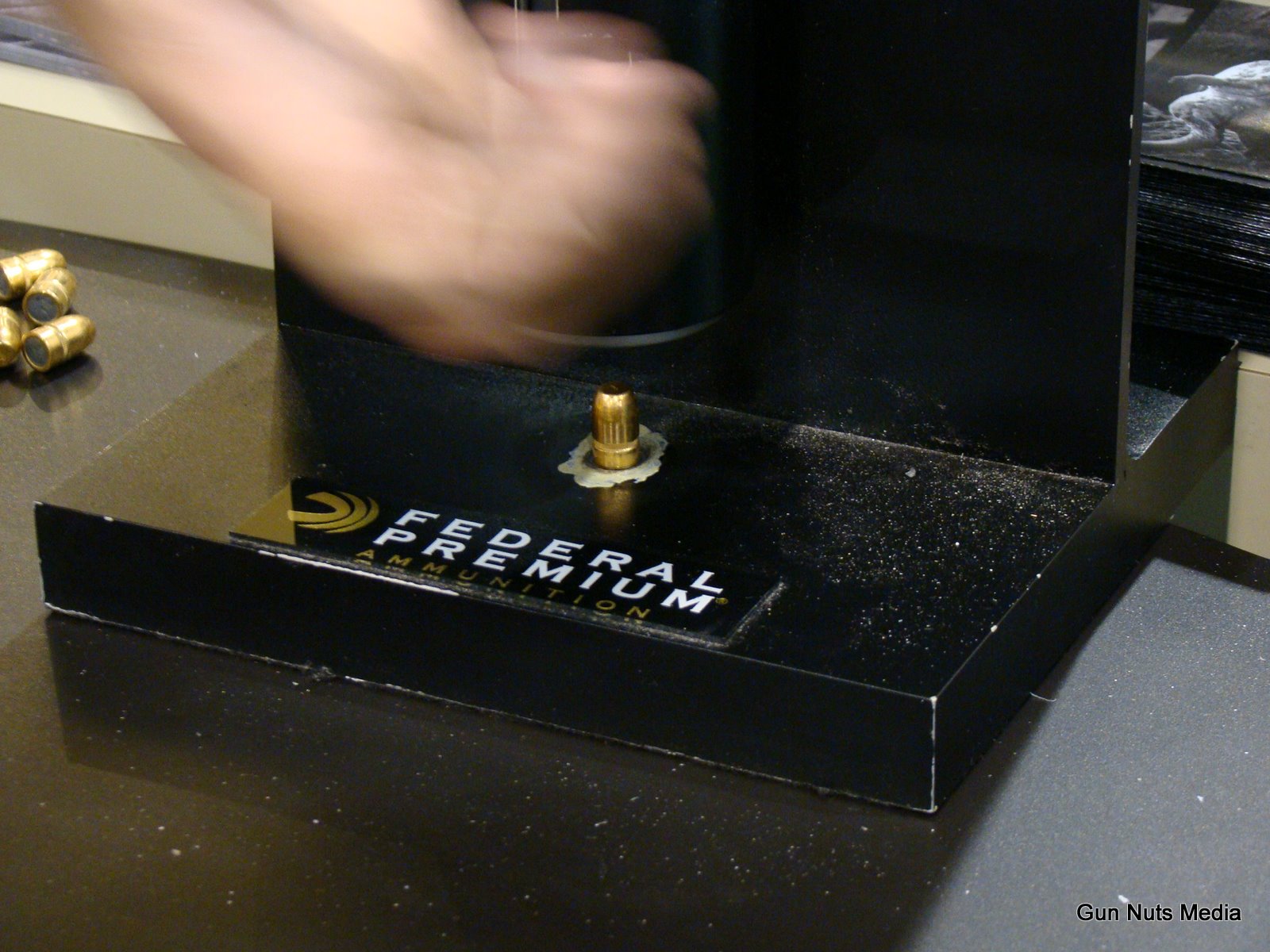 The bullets appeared to be ordinary full metal jacket, or FMJ bullets…right up until they were smashed by the falling block.
The Expanding Full Metal Jacket bullet from Federal has been around for a while, but it's still a cool idea.  The idea is to promote the kind of reliable feeding normally associated with ball ammo while still giving the shooter the benefit of an expanding bullet.
It's available in self defense ammo loadings in 9mm, .40 S&W, and .45 ACP in weights of 105 grains (9mm), 135 grains (.40 S&W) and 165 grains (.45 ACP).
One of the claimed advantages of the EJMF is that because the tip is crushable rubber, the bullet will never fill with barrier material like some hollow point designs.  While most modern hollow points have solved this problem, a little bit of extra insurance wouldn't hurt.  I'll also say this – if you're thinking about buying this ammo because your carry gun won't feed hollow point ammo, then the problem isn't your ammo, it's your gun.  Modern carry pistols should reliably feed every hollow point bullet on the market.
That being said though, the EJFM is a cool idea, and it's something that can work for people who are concerned about hollow point reliability and expansion.  It's also been suggested that this ammo might be legal in New Jersey which prohibits hollow point ammo normally.