A question that pops up in my inbox occassionally is "What kind of sights do you like for your guns?"  Next to grips, sights are probably the most personal aspect of a firearm, as most modern guns have nearly limitless options to what kind of sight picture you can hang on them.  Generally speaking, I like my sights to have black rear posts (no dots, no nothing) and some kind of high visibility front post, either a white dot, a tritium insert, gold bead, or a fiber optic front.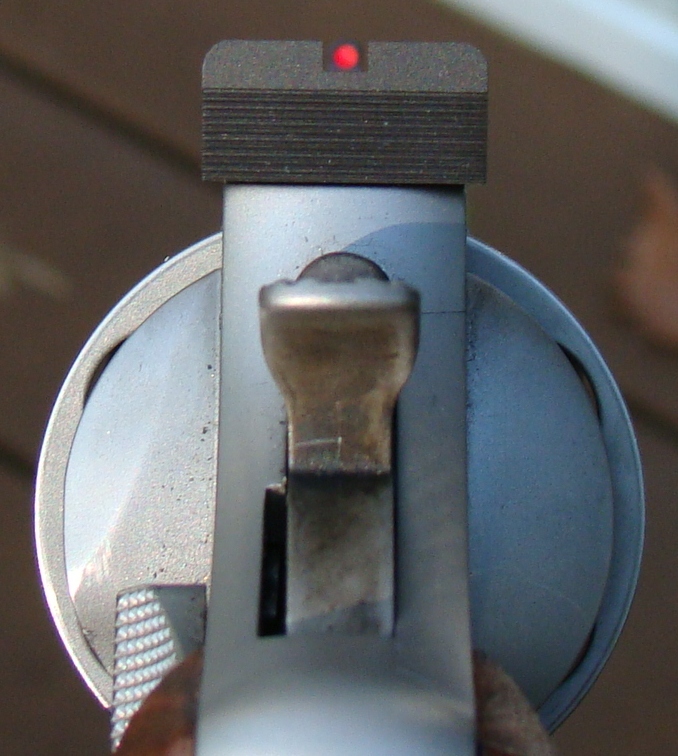 A good example of what I like is the sight picture on my S&W 625, which features a Bowen Rough Country rear sight and a HiViz fiber optic.
The reason I like this particular sight picture is that over the years I've become a "dot shooter".  Take a look at the image below, borrowed from Pistol-Training.Com.  In the image you have three distinct sight pictures, the first is what's commonly called the 6 o'clock hold, the second would be "point of aim point of impact" and the third is "floating the dot" or "driving the dot" or whatever you'd like to call it.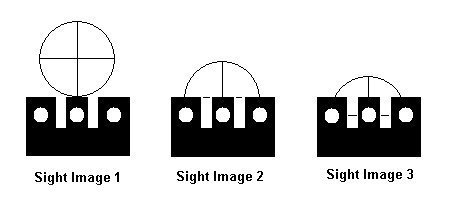 The sight picture that I use, albeit with a single dot on the front post is sight picture number 3.  I cover where I want the bullet to go with the dot, and assuming my gun is sighted in correctly that's where it goes when I pull the trigger.  I started using this when I started shooting a lot of IDPA and Steel Challenge; with the high visibility fiber optic front posts I use, I found it was quicker to simply pick up the dot and hammer the target.  As long as the front post is roughly aligned inside the rear posts and covering the -0 zone of an IDPA target, it's faster for me anyway than using a traditional Point of Impact hold.
This carries over to my "defensive" guns, as well.  Any gun that I use for concealed carry, 3-dot sights or single dot I'm going to use this particular hold for them.  The last time I shot a gun with 3-dot sights (a Beretta 92FS) this was the hold I used, and it worked just fine.
The caveat here though is "what works for me may not work for you".  Just because I use black rear posts and a high contrast front sight post doesn't mean that this is the perfect or ideal set up.  Some guys like all-black posts, some people like three dot posts, etc.  The point is to try different things until you find something that works well for you and helps you get fast hits on target.  I will say one thing in defense of the "float the dot" method I use – if you have night sights on your gun at 2am when the balloon goes up there is a good chance all you'll be able to see are the dots on the sights.