Another one of the guns I was hyped about from SHOT SHOW is the newest edition of the Smith & Wesson 625, the venerable .45 ACP revolver that is easily the winningest platform in revolver competition shooting.  At the 2010 SHOT SHOW, S&W unveiled the newest member of the vaunted 625 family, the 625 Performance Center.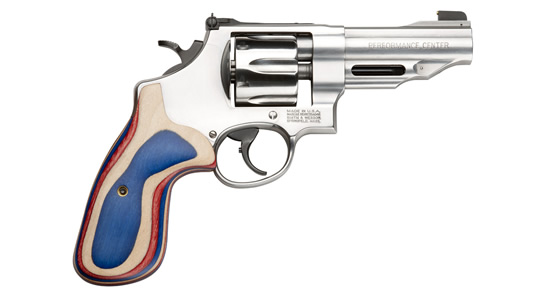 Do I even need to say that I want this gun?  Because I do.  The usual goodies that you'd expect on a revolver from the PC, gold bead front sight, Miculek style grips, chamfered charge holes, PC action and trigger overtravel stop, oh yeah do I want this gun.  Besides, I need another 625 so that if my primary match gun goes down I can immediately switch over.  After all, two is one…
The new Performance Center 625, which is not to be confused with the Miculek 625 retails around $1100, however there is one on Gunbroker for about $960, which I'm seriously considering snatching up.  This is a serious gun, and not one you should let sit around in your gun safe – it's designed to be shot, preferably in IDPA or USPSA competition.