Tactical Solutions has rolled out their new website, and what's the first thing to greet me? An ad for their new .22LR upper for Glock pistols.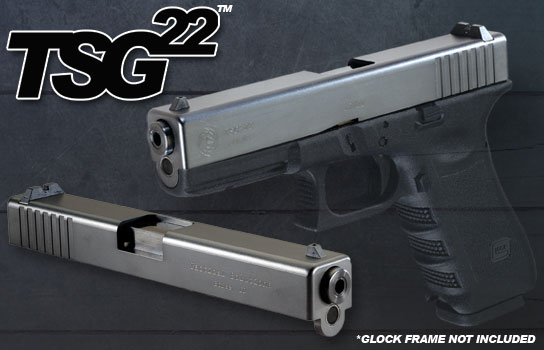 I predict that this upper will sell like absolute hotcakes, as TacSol's reputation for excellence in .22LR conversions will help drive customers to purchase their upper over others.
Tactical Solutions' TSG-22 17/22 is a .22LR conversion for GLOCK® Safe Action® Pistols. Designed with more authentic training in mind, the TSG-22 is manufactured from 4140 steel giving the shooter a more traditional weight and feel.

15 round polymer magazine
Last round hold open
Fits the GLOCK® models 17, 22, 34 and 35
Factory GLOCK® sights
1-16" Twist chome moly steel barrel
I can't wait for this to hit the market – talk about a great way to get inexpensive practice with your carry gun!