This is why I regularly browse Gunbroker.Com – so I can see when guns are actually getting out to the market for shooters.  During SHOT SHOW, I was very excited to see the new revolvers that S&W was adding to their lineup, especially the 686-Plus Pro Series revolver.  I have a 686SSR Pro Series, however, the -Plus model has several key differences.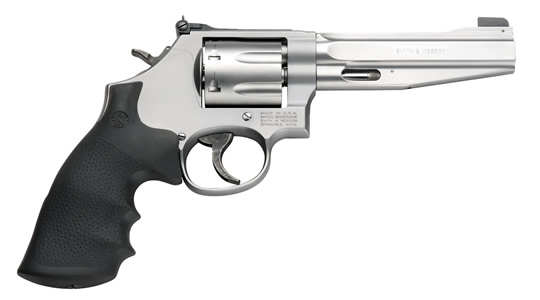 First off and most importantly, the 686-Plus Pro Series is a seven shooter, that extra round of .38 or .357 means that this revolver is now better suited for ICORE Limited Division or Steel Challenge than USPSA or IDPA competition.  Additionally, the new 686-Plus Pro Series gun is cut for 7 shot moonclips, and comes from the factory with a patridge front sight and a 5 inch barrel as opposed to the red ramp front sight and 4 inch barrel on the 686SSR Pro Series.
From what I've seen on Gunbroker and other sites, the new 686-Plus Pro Series is running from $700-$900, which is definitely lower than its MSRP of over $1000.  I can't wait to get my hands on one of these and shoot it – I've been shooting my 686SSR and have developed quite the fondness for L-frame guns in .38 Special.  They're fast to the target with mild recoil, and are simply all around pleasant guns to shoot.  The 686-Plus Pro Series shouldn't be an exception to that, and with the addition of moonclips for loading and a seventh round this could be a turnkey solution for Steel Challenge and ICORE Limited Division shooters that may not want the sizable platform that an N-frame represents but still want a firepower upgrade from a six-shooter.