Michael Bane got to play with the new toy from MasterPiece Arms and had some generally positive thoughts.
The MasterPiece Arms Mac-10 based Tactical Rifle in .45 ACP…no recoil…no malfunctions…and heck , you can't get the darn thing to miss!

I wanted to add a couple of notes when I got back to the hotel…yes, the little beastie is heavy, but I'm not planning on schlepping it across Afghanistan. I'm thinking of more of a home defense gun…it's short, handles easily, and I think the .45 ACP is a superior home defense round to a 7.62 (and yes, I have a FAL) unless you really really don't like your neighbors!
Here's the page at MasterPiece Arms on the Tactical Rifle, which they call their MPA1-SST-XX.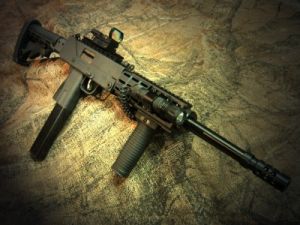 It's chambered in .45 ACP (also available in 9mm) with a 16 inch threaded barrel, AR style quad handguard, a muzzle break (seriously? – ed), 30 round magazine, vertical foregrip, and an AR style stock.  Honestly though, the coolest thing is that it comes with the Holosight you see mounted on the top of the gun.  MSRP for the whole package is $859.
While it's running right on the border of "too much junk on your gun", in general I'm a fan of .45 ACP carbines for home defense.  .45 ACP carbines and SMGs have put a lot of bodies in the dirt, they're generally easy to manage in recoil, fun to shoot, and definitely make a good ballistic compromise weapon.  Sure, it's not a "real" rifle, but it's going to be easier to hit your target with a pistol caliber carbine than a true pistol.