New for 2010 from Smith & Wesson are not one, not two, but three new pistols in the Pro Series line of M&P pistols. From Shooting Industry Magazine (which should change their format so people can link to articles, come on) we see S&W's announcement of the following new Pro Series M&P Pistols.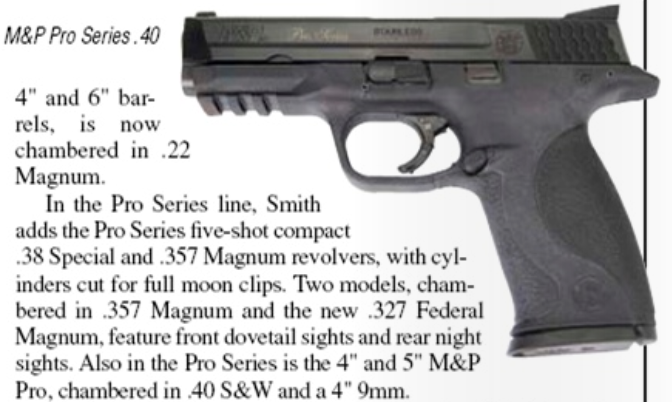 In .40 S&W, Smith is bringing out two pistols, a 4 inch Pro Series gun and a 5 inch "longslide" gun. The Pro Series guns come from the factory with either Novak or Warren Tactical sights, fiber optic front sights, no magazine disconnect safety, and the excellent factory trigger we've come to expect out of these guns.
Also for 2010, the M&P Pro Series adds a third new gun: a 4 inch 9mm to complement the 5 inch longslide gun. While the 5 inch models have been very popular, there are some people (myself included) that prefer the balance and feel of the 4 inch pistols.
The new guns should be on display at SHOT SHOW, and I'm working with our inside guy to get some pictures as soon as we can for you!