At the 2009 SHOT SHOW, one of the pistols I was enamored with was Taurus 9mm 1911 pistol.  I like 1911s, I like 9mm, and I like not spending a boatload of money on a gun.  While some people don't like Taurus guns, and perfectly entitled to that opinion, the Taurus semi-autos that I've owned have worked reliably.  Admittedly, I've never truly wrung one out for the course of 10-20,000 rounds, but they have worked.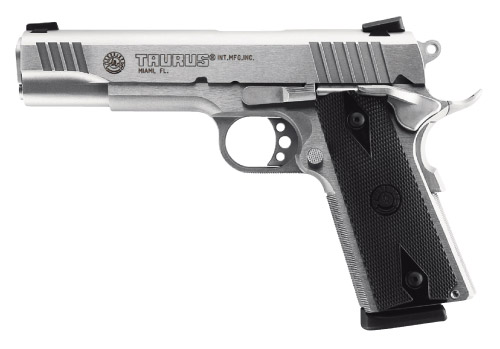 That's why there's a part of me that's very excited for when the Taurus 9mm 1911 hits shelves.  It's cataloged in the Gun Genie at Gallery of Guns, but no units are in stock…yet.  Usually once they get in the Gun Genie, it's only a matter of time before they'll be in your and my hands to take them out and shoot.
The Taurus 1911s are not perfect – don't fool yourself into thinking that you're getting a custom shop 1911 or a high end "tricked out" gun.  You are however getting a gun with a forged steel frame and a forged steel slide – which will make an excellent platform for the inevitable customization that most 1911 shooters do.